The Kitchen is a Star on Saint Valentine's Day
Saint Valentine's Day in the Kitchen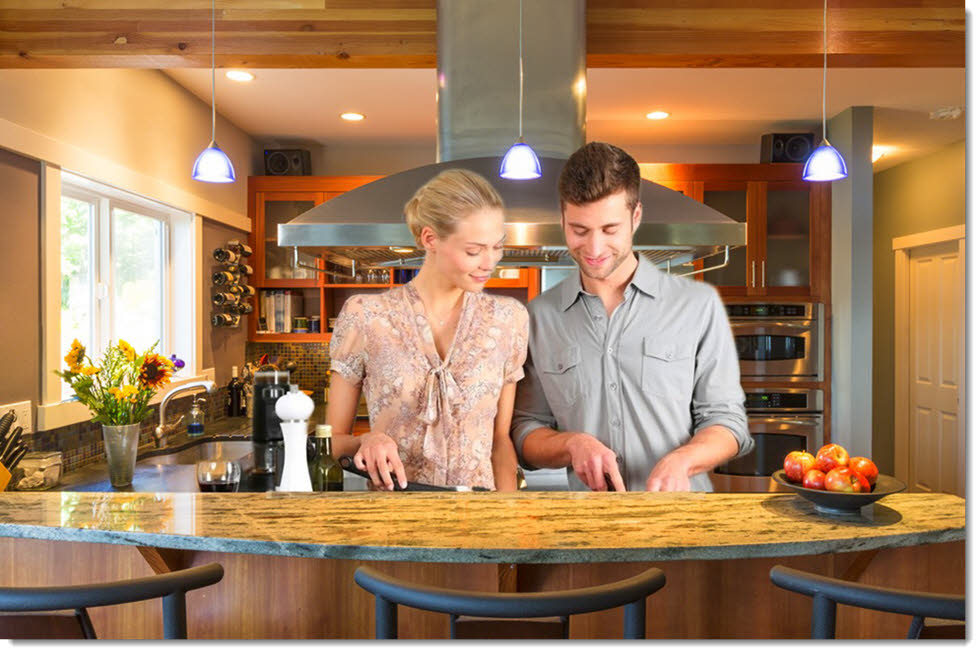 The legend of Saint Valentine is complicated by the fact that it's made up of several differing accounts. The Roman Catholic Church recognizes Saint Valentine as a real person who died in the third century in Rome.
By this account, Valentine was a priest who defied emperor Rome – Claudius II. Claudius decided that unattached men made for better soldiers than those with families and wives and thus forbade them to marry.
However, Valentine defied the emperor's wishes and secretly continued to marry young men and women. We remember Saint Valentine each February as a special day for people who are in love. It has become a well recognized romantic holiday.
To help create that romantic mood here are some special recipes for Valentine's Day that you can prepare easily to help make the day enjoyable and romantic. The kitchen is the perfect place to start and our recipes contain some ingredients considered for centuries to be aphrodisiacs.
We start off with a nice drink to help to get you in the mood.
Setting the Mood with Sangria
It's loaded with aphrodisiacs . . .
Ingredients
1 bottle dry red wine (750 ml)
1/3 cup pomegranate juice
1/3 cup bourbon
1 tbsp. honey
1 apple, sliced
1 peach, diced
1/2 lb. cherries, pitted and halved
Pomegranates – a superfood that can help with just about anything.
Red wine is perfect to help create the mood.
Honey is a very helpful ingredient – more on this below in the main course.
Cherries are sexy and contain potassium and vitamin C. Plus they also contain anthocyanins (the stuff responsible for giving them their red color) and will help you maintain a healthy sex drive.
Instructions
In a pitcher, combine wine, pomegranate juice, whiskey, and honey, stirring until the honey has dissolved. Add fruit. Chill for at least one hour, letting the fruit absorb the sangria a bit.
Pour into glasses and serve.
Now the main course which is healthy, not too heavy and again adds in some aphrodisiacs.
Mood Enhancement with the Main Course – Honey Garlic Glazed Salmon
Ingredients
3 tbsp. extra-virgin olive oil
4 6-oz. salmon fillets, patted dry with a paper towel
1/3 cup honey
1/4 cup soy sauce
2 tbsp. lemon juice
1 tsp. red pepper flakes
Sea salt to taste
Freshly ground black pepper
3 cloves garlic, minced
1 lemon, sliced into rounds
Salmon helps your libido, by supplying the building blocks for the production of estrogen, testosterone, and progresterone.
Honey – this "liquid gold" contains boron which helps regulate hormone levels and nitric oxide (which helps increase blood flow during arousal).
Instructions
In a medium bowl, whisk together honey, soy sauce, lemon juice and red pepper flakes.
In a large skillet over medium-high heat, heat two tablespoons oil. When the oil is hot but not smoking, add salmon skin-side up and season with salt and pepper. Cook salmon until deeply golden, about 6 minutes, then flip over and add the remaining tablespoon of oil.
Add the garlic to the skillet and cook until fragrant – about 1 minute. Add the honey mixture and sliced lemons and cook until sauce is reduced by about 1/3. Baste salmon with the sauce.
Garnish with sliced lemon and serve.
Now for the dessert . . . Chocolate-Covered Strawberry Yogurt Parfaits
Indulge guilt-free with a rich and creamy yogurt parfaits! While it tastes like a decadent dessert, this sweet treat is low in calories, high in protein, and packed with fresh fruit. It's the perfect Valentines' Day dessert!
Ingredients (per serving)
Strawberry Greek yogurt (4 ounces)
¼ cup diced fresh strawberries
1-2 tablespoons whipped topping
1 teaspoon miniature semi-sweet chocolate chips
1 teaspoon crushed walnuts
Optional: drizzle of chocolate syrup
Chocolate contains phenylethylamine — a stimulant that elicits excitement and a sense of well-being. The natural caffeine doesn't hurt either.
Walnuts are a prime source of beneficial fatty acids like omega-3, which, again, help with hormone production. Some women also claim that the aroma of walnuts arouses their passion.
While the legend says that strawberries originated from the heart-shaped tears of Aphrodite after she learned of her lover, Adonis's death, modern-day strawberries are loaded with vitamin C, which is important for the production of sex hormones and chemical neurotransmitters in the brain to increase libido.
Whipped cream – though not an aphrodisiacc – the light creamy texture could make for some creative lovemaking scenarios.
Instructions
Place the yogurt in the bottom of a small bowl. Top with strawberries, whipped topping, chocolate chips and crushed walnuts. Garnish with a drizzle of chocolate syrup, if desired.
Happy Saint Valentine's Day from everyone at Kitchen and Bath Creations!
Tags: Recipes
Gary Horsman
Gary is a consultant for KBC. He enjoys working in the kitchen whether it is cooking up a New Orlean's style Gumbo or a spicy curry. Socializing in his home is often centered around the kitchen as this highly social room is between the deck - also used for entertaining - and the dining room.