Mac and Cheese – for Halloween
Mac-O-Lantern and Cheese Bowls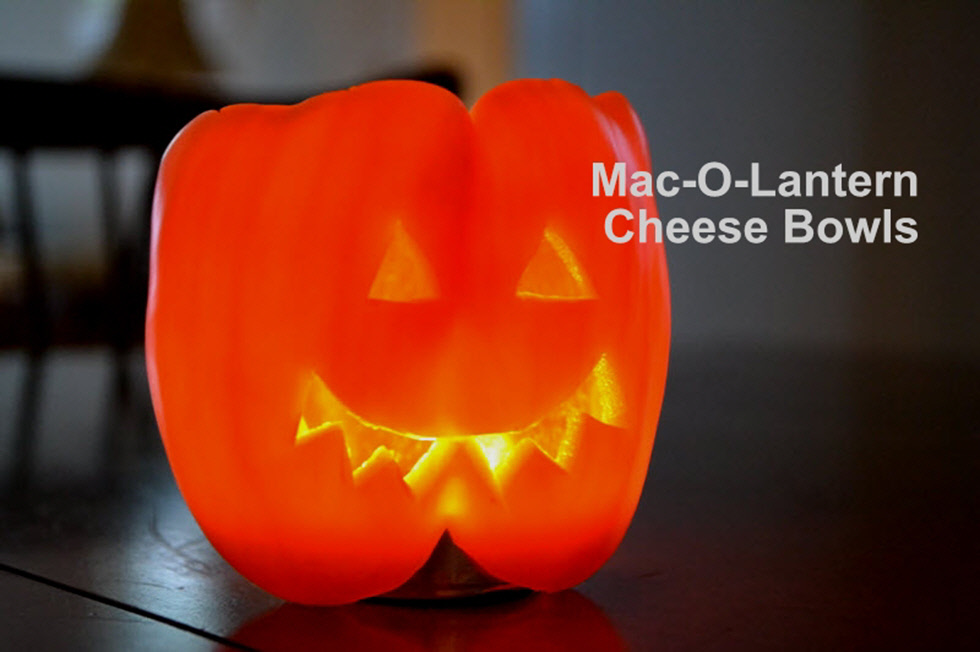 Macaroni and cheese originated in England. It is popular in the United States and Canada and is typically called mac and cheese.
Here is a Halloween version of this popular meal. It is fun and easy to make and uses orange bell peppers that are carved to look like Halloween pumpkins. The orange pepper becomes an edible bowl for your creamy mac and cheese.
Preparation
Bring a large pot of generously salted water to a boil. Fill a large bowl with ice water for quick cooling of the peppers.
Cut the tops off the peppers. Remove the seeds and the internal ribbing from the peppers. Put the peppers and the tops in the boiling water and cook until just tender which will be 2 to 3 minutes. Remove the peppers and place them in the ice bath.
Once cool, remove them and use a sharp knife to carve a jack-o-lantern face into one side of each pepper.
You can use your favorite Mac and Cheese recipe but in case you need one, below is a recipe that is easy and fast.
Place the elbow macaroni into boiling water. Cook until al dente (to the tooth) which means firm. You do not want the macaroni to be too soft. This boiling time will be about 6 minutes. Reserve 1 cup of the pasta water and drain (don't rinse the pasta).
Heat the half-and-half in a large saucepan over medium heat until it just comes to a simmer. Continue simmering until reduced to about 3/4 cup, about 10 minutes. Add the cream cheese and stir until melted. Whisk in the Cheddar until all the cheese is melted and the sauce is smooth.
Off the heat, add the macaroni to the saucepan and stir to combine. Stir in some of the reserved pasta water to thin the sauce if needed. Season with salt if needed.
Let everything sit for 10 minutes. Fill each carved pepper with the mac and cheese and cap each with a pepper top.
Recipe courtesy of Food Network Kitchen
http://www.foodnetwork.com/recipes/food-network-kitchen/mac-o-lantern-and-cheese-bowls-3813492
Ingredients
Kosher salt
6 medium orange bell peppers
8 ounces elbow macaroni
1 1/4 cups half-and-half
8 ounces cream cheese, at room temperature
4 ounces mild Cheddar, shredded (about 1 1/2 cups)
Total time to prepare and serve: 40 min
Your active time: 30 min
Here is a preparation video which takes you through the process in 50 seconds.
Tags: Recipes
Gary Horsman
Gary is a consultant for KBC. He enjoys working in the kitchen whether it is cooking up a New Orlean's style Gumbo or a spicy curry. Socializing in his home is often centered around the kitchen as this highly social room is between the deck - also used for entertaining - and the dining room.