Kitchen Cabinetry
Attention to detail and quality is our first priority for your kitchen cabinetry. We work with some of the highest quality custom cabinet manufacturers in the country to create the perfect kitchen remodel. Here are some of the cabinetry brands we offer and their features.
Choice Cabinet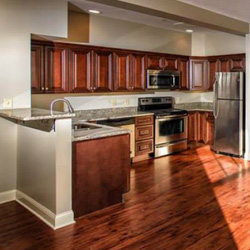 Located in Cleveland, Ohio, cabinet maker Choice Cabinet is the premier supplier of all wood cabinets with custom features at substantial savings. With more than 25 years of cabinetry experience, they know what it takes to build attractive and quality cabinets for your kitchen and every other room of your home.
Choice Cabinet is the hassle-free choice of cabinetry for all types of building professionals. No matter the project size or lead time, you can count on them to provide quality products, fast, yet thorough delivery, and an always dependable level of service. All of the features you will find in high end and custom cabinetry come standard with their cabinets. And they do all of this on a professional's tight budget.  Visit Website
Greenfield Cabinetry
Today's kitchen defines a home's scope and atmosphere, and the choice of Greenfield Cabinetry defines the homeowner's taste and style. Greenfield represents the immeasurable pleasure of superbly crafted, richly finished cabinets that exude warmth and beauty, and behind each cabinet door, consummate convenience, and order–an investment that makes lasting sense.
The quality and value of Greenfield Cabinets is beyond compare–from the choice of the finest woods and finishes, stains and paints, colors, and styles–to the myriad of creative configurations to meet every need–to a superb selection of stunning accessories. Greenfield offers cabinet creations that masterfully combine form and function with the pleasure of affordability and lasting style–the ultimate expression of Luxury Within Reach.  Visit Website
Legacy Cabinets
Legacy invites you to start a tasteful tradition with cabinets that artfully combine quality and efficiency. Set the tone for a beautiful space certain to become the warm heart of your home, a room where both cooking and congregating are a pleasure. The look you want is easy to achieve between Legacy's Debut and Advantage series product offering, with a combined offering of over 80 door styles, dozens of colors, and exciting upgrades to choose from.
Their professional crafters create and construct the cabinets in their state-of-the-art facility using top techniques and building materials.  Visit Website
Mid Continent Cabinetry
Mid Continent Cabinetry is a leader in the kitchen cabinetry and bath vanity market. Mid Continent has a variety of kitchen cabinets and bath vanities to fit any needs.
They specialize in Custom Cabinets, Painted Cabinets, Glazed Cabinets, and more, with styling aligned with modern, updated home fashion.
Get the look you want for your home with Mid Continent Cabinetry.  Visit Website
Showplace Wood Products
In just a very few years Showplace has gone from a standing start to being a major national brand. That's because a whole lot of customers like the Showplace mix of quality, flexibility, and price. Showplace production has gone from 50 cabinets daily in early 2000 to nearly 800 per day just a few years later. Showplace offers a unique combination of design flexibility, product quality, expressive creative options, and honest real-world value.
Each cabinet is a product of the pride and personal attention that comes from a company where every employee is an owner.  Visit Website
Touchstone Fine Cabinetry
You'll find choices, options, and solutions around every corner at Touchstone. Using only the best materials, the latest technologies and the artful craftsmanship responsible for furniture-quality cabinets, there is no kitchen they can't build for you. Traditional or futuristic, rustic or shiny, popular or quirky—whatever you want your kitchen to be, Touchstone can help you make it so.
Literally, limitless styles, colors, tastes, and emotions can be created and expressed with Touchstone Fine Cabinetry. Choose from the wide spectrum of impressive styles they already make or originate your own look with custom doors and finishes.  Visit Website
Urban Effects
Urban Effects Cabinetry is a full service cabinetry design and remodeling company providing complete cabinetry solutions to Homebuilders and Homeowners in Canada and in the U.S. Their mission is to provide the highest level of service and quality.
Urban Effects Cabinetry stands by the following guiding principles: Professionalism, teamwork, quick and efficient turn-around time, creativity, innovation, and dedication to quality and service. Visit Website
Woodmont Cabinetry
Woodmont Cabinetry was founded as Western Cabinets in 1953 in Grand Prairie, Texas. In those early years, the company supplied stock cabinetry to the DFW homebuilder market. From its very beginnings, the company held two core beliefs: treat people right and offer a quality product at a good value. Today, Woodmont Cabinetry is firmly committed to sustainable policies and practices that benefit the environment while enhancing the beauty and quality of their products.
Visit Website