Kitchen Design Center–Annapolis, Maryland
Annapolis Showroom Address
72 Forest Plaza
Annapolis, MD 21401
410.772.3240 (phone)
410.772.1210 (fax)
Annapolis Showroom Hours:
Monday through Friday 9:00-5:00
Saturday 10:00-4:00
The Importance of Your Kitchen Cabinets
As today's heart of the home, the kitchen adds tremendous value, and kitchen cabinetry is the largest and most important piece of your investment. Cabinets make the kitchen. They determine its look and feel.
However, kitchen design goes far beyond getting the cabinets right. The layout needs to be well suited to your space for optimum organization of the kitchen.
KBC supplies custom cabinets with unique construction options, finishes, and functions designed to suit your personal needs—the sky is the limit! Our Annapolis showroom is set up for customers to view a wide variety of cabinetry brands that cater to their personal style.
Cabinet Style
You will want to make sure that the style of your kitchen cabinets works well in the kitchen but also blends properly with the rest of your home and in particular the rooms and areas immediately adjacent to the kitchen.
What's your design style–Traditional, Modern, Contemporary, Transitional? The general rule on kitchen cabinet style is to select a cabinet style that is consistent with the rest of your home's design style.
Color
The style of the cabinets will be significant to the color choices you make–color and style need to match. The color needs to work with both your personal taste and match other elements of the kitchen, such as appliances, backsplash, flooring, etc.
Blues, grays, and whites are among the most popular color choices for 2020.
Cabinet Storage
Many people underestimate the need to design in proper storage. It is probably a good idea to have more storage rather than less. One way to estimate storage would be to take an inventory of everything you will want to store in your kitchen. Then add 10-20% more storage.
When working with our Annapolis Kitchen Design Showroom designers, they will ask the right questions and show you kitchen design examples so that your kitchen will be the best it can be.
Our Kitchen Designers
Below are the bios of our Annapolis-based kitchen designers. Each of these kitchen designers can help you define your needs, work to help you achieve your desires, and will work within your budget.
Stephanie Clevenger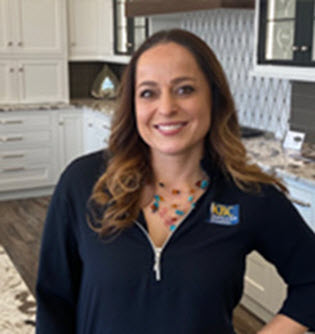 As the daughter of an Interior Decorator, Stephanie was "destined" to create beautiful surroundings. She has a love for transitional design–collaborating traditional elements while still creating a modern look.
As a seasoned designer with 13 years in the industry, Stephanie has a knack for detail, utilizing function, and considers her clients to be her biggest design inspiration.
---
Mike Downey
Prior to getting into the kitchen design business, Mike was a building/
remodeling contractor. He has more than 25 years of combined industry experience and in-depth knowledge of the remodeling process.
He wants his clients to have realistic expectations of the entire process
and helps them work within the budget to achieve their dream project.
Design Process: "I listen to the clients 'wants' and 'needs' and present a balanced design that's both functional and aesthetically pleasing."
---
Annapolis Interior Showroom Photos
This gallery will give you a sense of how you can get some wonderful ideas for your new kitchen.
---
Annapolis Kitchen Design Showroom Special Offer
Annapolis Kitchen Design Showroom Location
Kitchen Design Resources
Here are some additional resources that you may find helpful.
Kitchen Project Budget Worksheet (PDF Download)