Counter Surfaces
The one element you will see most in your new kitchen or bathroom is your countertop. A wide variety of kitchen countertop styles, colors, textures, and materials means your options are endless when choosing a surface area. We offer help to sort through the pros and cons of each material, and we have the experience to help you decide which is right for you.
Caesarstone
CaesarStone®, the original quartz-based engineered stone, is made of 93% crushed quartz, one of nature's hardest minerals. The quartz is combined with high-quality polymer resins and pigments and then compacted under intense vibration, vacuum, and pressure into dense, non-porous slabs. The slabs are post cured, gauged to precise thickness, and polished to an enduring shine.
Caesarstone is tough enough for the wear and tear on just about any interior surface and beautiful enough for every architectural and decorating scheme. Primarily used for kitchen countertops and bathroom vanities, CaesarStone® is superior to other manufactured and stone surfaces. Its extraordinary physical countertop properties have become internationally recognized, establishing a new product genre in the industry. Visit Website
Cambria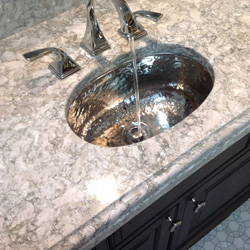 Discover the warmth and richness that can only be found in natural quartz surfaces–where elegance and beauty meet function and lasting durability. With an endless palette of dazzling colors showcasing the depth and character of natural quartz, you'll see why more and more homeowners are asking for Cambria by name.
Cambria is a natural quartz surface that is elegant and practical. There is no safer surface for food. Cambria is nonporous and nonabsorbent and resists stains from common household items such as coffee, tea, and wine. If you are building or remodeling your kitchen or bath, you will appreciate the exceptional performance that Cambria offers. Visit Website
Corian by Dupont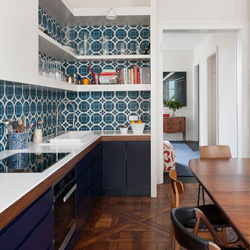 Corian® by DuPont™ allows you to create a space as individual as you are with inlays, seamless backsplashes, and inline sinks. Because Corian® is nonporous, stains do not penetrate the surface and resists the growth of mold, mildew and bacteria. It is also heat and scratch resistant.
A signature DuPont innovation, Corian® solid surfaces continue to evolve and to inspire unprecedented creative flights of design fancy combined with functionality. Flowing, virtually seamless, with organic shapes and bold effects of color and translucency, Corian® solid surfaces deliver high performance and outstanding aesthetics. Corian® is available in a vast range of trendsetting patterns and tones, as well as your own custom-designed colors.  If it can be imagined, it can be created with DuPont™ Corian® solid surface. Visit Website
Granite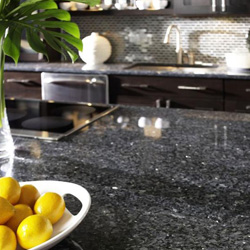 Granite countertops are, for most people, the top choice for a high-end kitchen countertop. It's a natural stone, comes in a variety of colors, and every piece is different.
Granite is a coarse-grained rock composed mainly of quartz, feldspar, and a variety of minerals that contributes to its color. Granite is difficult to damage and nearly impossible to scratch. It is also heat resistant, but polished surfaces must be sealed to protect the beauty of this natural stone.
Laminate by Formica
Formica® is the original high pressure laminated countertop. Their laminates are highly durable, functional, and available for just about any interior surface. A long history of advances in design and craftsmanship have resulted in a complete spectrum of solid colors and patterns, textures, and finishes.
Formica® laminates are one of the most affordable countertop options available with new technology that marks a revolution in surfacing with true-to-scale granite patterns that offer visual drama unmatched by any other laminate. Modern, sophisticated patterns focus on a neutral palette–versatile enough to pair with any interior design concept. Visit Website
Laminate by Wilsonart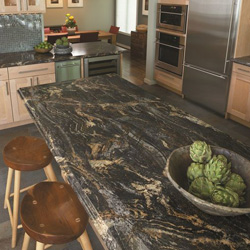 With Laminate that revolutionized what laminate could be, Wilsonart has brought unmatched beauty, design, and craftsmanship to countertops. The Wilsonart brand has achieved success through a combination of outstanding service, high-quality products, and a focus on continuously redefining the laminate surface through improved performance and aesthetics.
Additionally, the company continuously strives to improve their products and processes to ensure minimal impact on the environment. Wilsonart is proud to be the first adhesive manufacturer to have their low-emitting PVA and woodworking adhesives recognized by UL's GREENGUARD Certification Program for indoor air quality. Visit Website
Silestone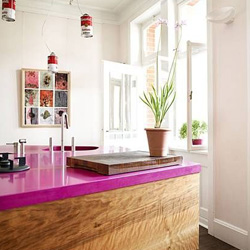 Silestone® offers a sophisticated elegance and timeless beauty. It's one-of-a-kind brand is linked to the world of fashion and design, associated with the highest levels of innovation and modernity making it the ideal choice to transform your kitchen or bathroom into a unique space.
The natural quartz in Silestone® delivers distinctive depth, brilliant clarity, and a cool, solid feel unique to natural stone.  Composed of 94% natural quartz, it is the first and only quartz countertop that contains a unique bacteriostatic formula based on the use of latest generation silver ions to prevent the propagation of bacterias. Visit Website