Kitchen Design Center–Perry Hall, Maryland
Perry Hall Showroom Address
4136-B Joppa Road
Nottingham, MD 21236
410.772.3240 ext. 200
410.772.1210 (fax)
Perry Hall Showroom Hours:
Monday through Friday 9:00-5:00
Saturday 10:00-4:00
Kitchen & Bath Creations and Carpet Concepts
Kitchen & Bath Creations and Carpet Concepts share a space in the Perry Hall community. The partnership combines flooring, kitchen and bath cabinetry, hardware, and countertops in one location. This merger makes it easier for you to create the kitchen of your dreams.
Now, you can see cabinet, countertop, and flooring options all in one convenient showroom! Have fun combining colors, styles, and textures. Get a real sense of how the flooring pattern will match with your favorite cabinet ideas. Consult with Carpet Concepts to see if you should go with wood strips or whether planks or a parquet pattern will look and work the best.
The combination of expert flooring advice and expert cabinetry advice make the combined Perry Hall showroom of Kitchen & Bath Creations and Carpet Concepts the best place to visit when considering a new kitchen or a kitchen or bath remodeling project.
The Importance of Your Kitchen Cabinets
As today's heart of the home, the kitchen adds tremendous value, and kitchen cabinetry is the largest and most important piece of your investment. Cabinets make the kitchen. They determine its look and feel.
However, kitchen design goes far beyond getting the cabinets right. The layout needs to be well suited to your space for optimum organization of the kitchen.
KBC supplies custom cabinets with unique construction options, finishes, and functions designed to suit your personal needs—the sky is the limit! Our Annapolis showroom is set up for customers to view a wide variety of cabinetry brands that cater to their personal style.
Cabinet Style
You will want to make sure that the style of your kitchen cabinets works well in the kitchen but also blends properly with the rest of your home and in particular the rooms and areas immediately adjacent to the kitchen.
What's your design style–Traditional, Modern, Contemporary, Transitional? The general rule on kitchen cabinet style is to select a cabinet style that is consistent with the rest of your home's design style.
Color
The style of the cabinets will be significant to the color choices you make–color and style need to match. The color needs to work with both your personal taste and match other elements of the kitchen, such as appliances, backsplash, flooring, etc.
Blues, grays, and whites are among the most popular color choices for 2020.
Cabinet Storage
Many people underestimate the need to design in proper storage. It is probably a good idea to have more storage rather than less. One way to estimate storage would be to take an inventory of everything you will want to store in your kitchen. Then add 10-20% more storage.
When working with our Perry Hall kitchen designers, they will ask the right questions and show you kitchen design examples so that your kitchen will be the best it can be.
Perry Hall Team
Carol Paul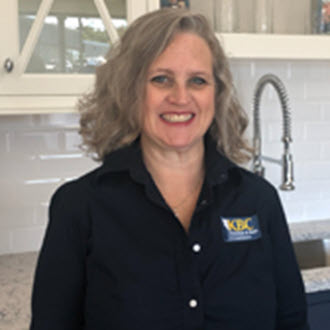 Carol Paul was brought on board in July of 2019 to manage the Perry Hall location. She has settled in nicely and is getting to know the surrounding community. Carol is an award-winning designer who stays on top of the newest trends but also appreciates timeless classic designs. She has 13 years of experience in the industry and loves to think outside the box when it comes to unusual or difficult spaces.
Many of Carol's clients are repeat buyers, and she gets many referrals seeking her out as well. She practices active listening while discussing the client's vision for a completed project. She uncovers their needs, desires, goals, and "must-haves" to create the best marriage of form and function, within the allotted budget.
---
Ashley Chafin
Since 2017, Ashley has worn many hats within the kitchen and bath industry. She started designing for homeowners and then quickly gained the knowledge and experience to work directly with builders and contractors.
Ashley has a passion for organization and "getting things done!"
We know she will excel in her role as Project Coordinator for the new home construction sector of Kitchen & Bath Creations.
---
Tom Conway
Tom Conway has 20 years of Project Management
experience with 7 of those years in the Kitchen
and Bath industry. In 2016, he began designing new
construction single family homes across the state of
Delaware, and by the end of 2017, he was working with
the Delaware State Housing Authority. This lead to Tom
focusing on kitchens and baths for multi-family
construction in both Delaware and Maryland.
With experience in both standard and UFAS/ADA designs,
Tom has all of the tools to get the project completed.
---
Client Testimonial
"Thank you again so much for a beautiful job designing my kitchen and finding a place for everything I had on my wish list. It was a pleasure working with you from beginning to end. Everyone else in the company I had contact with were wonderful to work with as well. We are very happy we chose Kitchen and Bath Creations for our kitchen remodel."

Lisa and Dominic Correlli
---
Perry Hall Interior Showroom Photos
This gallery will give you a sense of how you can get some wonderful ideas for your new kitchen.
---
Perry Hall Kitchen Design Center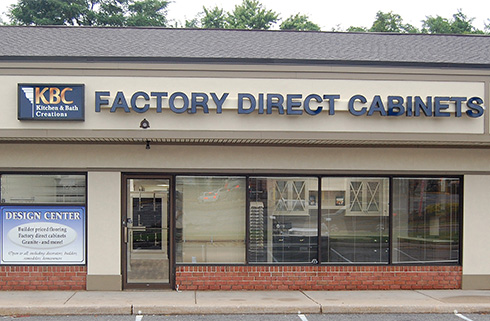 Kitchen Design Showroom Location
Kitchen Design Resources
Here are some additional resources that you may find helpful.
Kitchen Project Budget Worksheet (PDF Download)