Kitchen Cabinetry
Attention to detail and quality is our first priority for your kitchen cabinetry. We work with some of the highest quality custom cabinet manufacturers in the country to create the perfect kitchen remodel. Here are some of the cabinetry brands we offer and their features.
Aristokraft
Aristokraft is a subsidiary of MasterBrand Cabinets and one of the most trusted brands in the industry. Take advantage of nearly 70 years of craftsmanship, attention to detail, and affordable prices. They make everyday living easy with good-looking door styles, curated colors, and the top requested cabinet accessories.
As a certified member of the Kitchen Cabinet Manufacturers Association's (KCMA) Environmental Stewardship Program, Aristokraft demonstrates an ongoing commitment to sustainability. By achieving this certification, Aristokraft goes beyond minimum industry requirements and demonstrates leadership in a growing area of concern and importance.
BJ Tidwell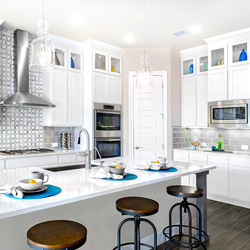 Known for its master craftsmanship in the cabinet industry for more than half a century, BJ Tidwell cabinets are designed with passion and ingenuity.
BJ Tidwell offers an extensive collection of "Traditional" production and semi-custom framed cabinets for construction and design flexibility.
Experience the superior quality and transformative power of cabinetry reflecting the legendary perfection that is Tidwell craftsmanship.
Decora
Decorá Cabinetry, beautiful from the inside out! Exquisite detail, superior service–these attributes are what separates a Decorá Cabinetry kitchen from the rest.
Decorá cabinets are hand crafted in Jasper Indiana, an American woodworking and furniture-making hub since German furniture makers founded the town in the 1800s. Their knowledge has been handed down, generation to generation and can still be seen in every cabinet made today.
Every step in building a Decorá cabinet is done with the utmost care. Skilled craftsmen work hand-in-hand with nature to craft beautiful cabinetry that's unique and personal to your home.
Fieldstone Cabinetry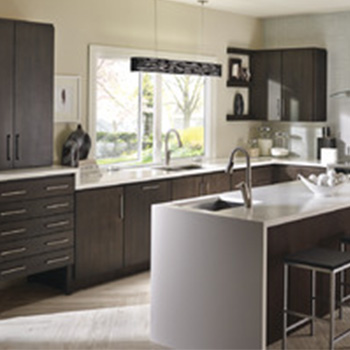 Fieldstone Cabinetry takes the utmost pride in the cabinetry they build. Their reputation is built on quality craftsmanship, innovative styles, and flexible designs. Each custom cabinet is made in America's heartland and handcrafted by dedicated employees who believe in doing their best. 
Handcrafted construction relies on the hand and eye precision of Fieldstone Cabinetry's craftsmen. Industrial equipment can't replicate their personal touch. All doors are assembled by hand, sanded by hand, glazed by hand, and distressed by hand.
It's easy to see the beauty and attention to detail on the exterior of your new cabinets, and what you don't see counts too! Fieldstone Cabinetry believes in quality details inside and out.  
Legacy Cabinets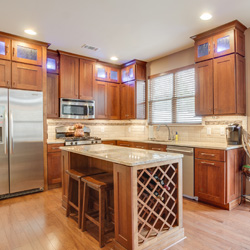 Legacy invites you to start a tasteful tradition with cabinets that artfully combine quality and efficiency. Set the tone for a beautiful space certain to become the warm heart of your home, a room where both cooking and congregating are a pleasure. The look you want is easy to achieve between Legacy's Advantage, Debut, Milan, and Presidential series.
Advantage Series:  Good entry-level products available in dozens of combinations of styles and finishes in today's hottest looks.

Debut Series:  Better grade product available in hundreds of combinations of species, styling, and finishes built in three construction series–Select, Estate, and Executive.

Milan Series:  European full-access contemporary styling in both a slab or shaker style in dozens of today's hottest textured melamine finishes as well as smooth gloss and high gloss.

Presidential:  All wood high quality cabinetry featuring a furniture grade #15 sheen finish. Available in hundreds of combinations of wood species, styling, and finish options. Will manufacture any specialized component not shown in their standard specifications.
Legacy's professional craftsmen create and construct the cabinets in their state-of-the-art facility using top techniques and building materials. 
Mantra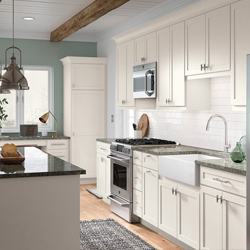 Mantra is part of the MasterBrand family, offering a wide variety of cabinetry products designed to satisfy every budget and lifestyle. Mantra strives to deliver quality above and beyond your expectation, and we believe their industry leading service will set them apart.
Each and every cabinet in the Mantra line provides our customers with the following features:
• All plywood construction
• Soft close features
• Entry level price point
• Quick delivery (available from local inventory in 2 weeks)
Say goodbye to the hassle of upgrades and added costs. Welcome to Mantra! Delivering great service, product innovation, and quality–assuring your dream kitchen becomes a reality. 
Mid Continent Cabinetry
Mid Continent Cabinetry is a leader in the kitchen cabinetry and bath vanity market. Mid Continent has a variety of kitchen cabinets and bath vanities to fit any needs.
They specialize in Custom Cabinets, Painted Cabinets, Glazed Cabinets, and more, with styling aligned with modern, updated home fashion.
Get the look you want for your home with Mid Continent Cabinetry. 
Plain & Fancy Custom Cabinetry
Plain & Fancy founder John Achey's hobby was making cabinets. They were handcrafted, hand-rubbed, extraordinarily handsome cabinets. In 1968, his "hobby" turned into the pursuit of a dream when he and his family began building cabinetry in their Richland, Pennsylvania garage. This is when Plain & Fancy was born.
In 2008, Plain & Fancy's artisan-rendered hand finishing was blended with state-of-the-art finishing technology to create a flawless finish you have to see to believe.
Plain & Fancy continues to be run and owned by the Achey family today. The KBC family is proud to offer this quality custom cabinetry to our community.  
Showplace Wood Products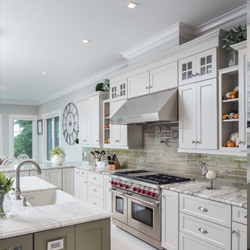 In just a very few years Showplace has gone from a standing start to being a major national brand. That's because a whole lot of customers like the Showplace mix of quality, flexibility, and price. Showplace production has gone from 50 cabinets daily in early 2000 to nearly 800 per day just a few years later. Showplace offers a unique combination of design flexibility, product quality, expressive creative options, and honest real-world value.
Each cabinet is a product of the pride and personal attention that comes from a company where every employee is an owner. 
Tru Cabinetry
Tru Cabinetry crafts some of the finest American-made cabinetry in the semi-custom category. They are driven by small-town pride for their manufacturing community, and that's evident in every component that comes off the line. Our customers can be assured that with Tru Cabinetry's quality standards come stability, dependability, and support.
"Your mother was right. It's what's on the inside that counts. And beauty? It's in the eye of the beholder. That's why we pride ourselves on building more than just another pretty space. We have engineered the strongest, most reliable cabinet in the business."
Urban Effects
Urban Effects Cabinetry is a full-access cabinetry manufacturer company providing complete European cabinetry construction solutions to home builders and homeowners in Canada and in the U.S. Their mission is to provide the highest level of service and quality.
Urban Effects Cabinetry stands by the following guiding principles: Professionalism, teamwork, quick and efficient turn-around time, creativity, innovation, and dedication to quality and service.  
Wolf Home Products
With more than 175 years in operation, Wolf Home Products has always been committed to supplying the highest quality of products for any budget. Their kitchen and bath materials have consistently remained the preferred source among experienced builders and remodelers coast to coast.
We are proud of our partnership with Wolf. Their longstanding commitment to quality and performance, at the right price, allows us to meet our customer's demands for stylish home solutions.