Bathroom Vanities
Everyone wants to feel comfortable and relaxed in their bathroom. It is a modern requirement! Our bathroom vanity program is designed to provide furniture-quality cabinetry for the bath. We have designed this product offering to have the utmost choice and flexibility.
Bathroom vanities are available in 24", 28", 30", 36", 48" and 74" and arrive typically within 14 days. Tops vary by design and may be sold separately. Here are some of the brands we offer:
Choice Cabinet
Located in Cleveland, Ohio, cabinet maker Choice Cabinet is the premier supplier of all wood cabinets with custom features at substantial savings. With more than 25 years of cabinetry experience, they know what it takes to build attractive and quality cabinets for your bathroom and every other room of your home.
Choice Cabinet is the hassle-free choice of cabinetry for all types of building professionals. No matter the project size or lead time, you can count on them to provide quality products, fast, yet thorough delivery, and an always dependable level of service. All of the features you will find in high-end and custom cabinetry come standard with their cabinets. And they do all of this on a professional's tight budget.  Visit Website
As a Choice Cabinet distributor, Kitchen & Bath Creations can offer you two all wood constructed cabinet lines, stocked in depth, for immediate delivery.
CWP Cabinetry
CWP Cabinetry | Custom Wood Products Cabinetry is located in the picturesque Shenandoah Valley in Southwest Virginia and has been producing fine custom cabinetry for over 45 years. Known for the quality and workmanship of their handcrafted cabinets, CWP's wide selection of wood species and door styles is complimented by an almost unlimited choice of finishes.
CWP is truly a custom cabinet maker of the highest standards, where there are no limitations to what they will provide our customers. In fact, they pride themselves on offering cabinetry that not only meets your needs, it also fulfills your dreams.  So don't just select any manufacture, select one that makes each cabinet a work of art.  CWP Cabinetry–Unparalleled selection, construction, detail, and value.  Visit Website
Fieldstone Cabinetry
Fieldstone Cabinetry takes the utmost pride in the cabinetry they build. Their reputation is built on quality craftsmanship, innovative styles, and flexible designs. Each custom vanity is made in America's heartland and handcrafted by dedicated employees who believe in doing their best.
Handcrafted construction relies on the hand and eye precision of Fieldstone Cabinetry's craftsmen. Industrial equipment can't replicate their personal touch. All doors are assembled by hand, sanded by hand, glazed by hand, and distressed by hand. It's easy to see the beauty and attention to detail on the exterior of your new vanity, and what you don't see counts too! Fieldstone Cabinetry believes in quality details inside and out.
Visit Website
Legacy Cabinets
Legacy invites you to start a tasteful tradition with bathroom vanities that artfully combine quality and efficiency. The look you want is easy to achieve between Legacy's Debut and Advantage series product offering, with a combined offering of over 80 door styles, dozens of colors, and exciting upgrades to choose from.
Their professional crafters create and construct the cabinets in their state-of-the-art facility using top techniques and building materials.  Visit Website
Mid Continent Cabinetry
Mid Continent Cabinetry is a leader in the bath vanity market and has a variety of bath vanities to fit any needs.
They specialize in Custom Cabinets, Painted Cabinets, Glazed Cabinets, and more, with styling aligned with modern, updated home fashion.
Get the look you want for your home with Mid Continent Cabinetry.  Visit Website
Showplace Wood Products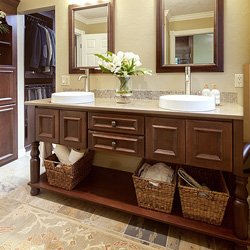 In just a very few years Showplace has gone from a standing start to being a major national brand. That's because a whole lot of customers like the Showplace mix of quality, flexibility, and price. Showplace production has gone from 50 cabinets daily in early 2000 to nearly 800 per day just a few years later. Showplace offers a unique combination of design flexibility, product quality, expressive creative options, and honest real-world value.
Each bathroom vanity is a product of the pride and personal attention that comes from a company where every employee is an owner.  Visit Website
St. Martin Cabinetry
Since their inception in mid-2011, St. Martin Cabinetry has enjoyed solid growth and a remarkable reception in the marketplace. However, the birth of the St. Martin Cabinetry line occurred long before the first cabinet was built! Several years of research and development has taken the exceptional line of European style full-access cabinetry from vision to reality.
St. Martin Cabinetry is located in the heart of Pennsylvania, USA, an area of great resources that reflects a proud heritage of craftsmanship and cabinet making.  Their bathroom vanity features all plywood construction, solid wood dovetailed drawers with soft closing hardware, beautiful furniture grade painted and stained finishes, and a wide variety of features.
Visit Website
Woodmont Cabinetry
Woodmont Cabinetry was founded as Western Cabinets in 1953 in Grand Prairie, Texas.  From its very beginnings, the company held two core beliefs:  treat people right and offer a quality product at a good value. Today, Woodmont Cabinetry is firmly committed to sustainable policies and practices that benefit the environment while enhancing the beauty and quality of their products.
Visit Website