Base Cabinets and Kitchen Design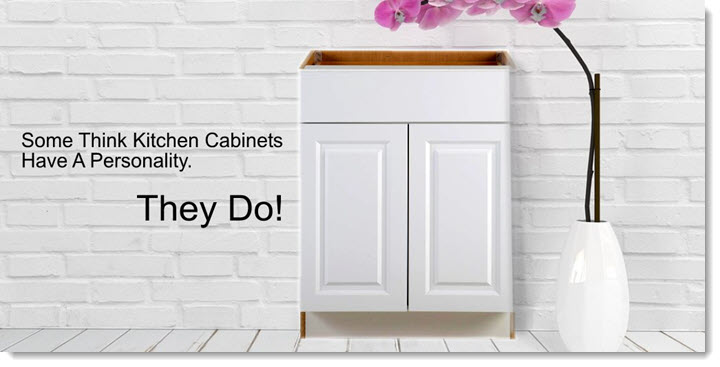 Base cabinets can create wonderful possibilities throughout your home, from the kitchen to the bath to the laundry or home office. We will examine the functionality and 'personality' of each type of kitchen cabinet. This will help you to design in maximum kitchen cabinet functionality which blends together perfectly for superior kitchen cabinet harmony. You do, after all, want your kitchen cabinets to get along.
The base cabinets are set on the floor and are the "heavy lifters" of cabinetry. These kitchen and bath cabinets provide bulk storage space. They often have shelving inside for items such as pots and pans, cookware or cleaning supplies. They can also have pull-out racks or roll trays for easy access to items. Cabinets can also include features such as recycling bins, wastebaskets, and laundry hampers.
Here are some types of base cabinets which are available from Kitchen & Bath Creations.
Easy-Access Cabinets
Base Easy-Access Cabinets are built with a middle shelf, plus small racks attached to the inside door for greater accessibility to often-used items. This type of cabinet is a good idea for almost all kitchens. You want to be able to have easy access to things you use often.
This cabinet has a personality that is easy going and very flexible. Many homeowners take them for granted and this cabinet type is OK with this.
Slide-Out or Pull-Out Cabinets
Slideout cabinets also provide easy access to often-used items. They can also be space savers as they are often narrow but with shelves for storing and presenting small items such as spice containers or containers with base cooking ingredients such as sugar, salt, and baking powder. They are typically small, open shelves fitted with racks to prevent items from tipping or sliding as the shelf is pulled out.
These type of cabinets pride themselves on being able to fit into tight places and always being in the right place at the right time. They enjoy being called upon for special ingredients by the chef in the kitchen. They often crave attention.
Big-Item Cabinets
These may only have one big storage area and typically have a maximum of only two drawers. They help you to store large items such as pots and pans. This type of kitchen cabinet makes it easy to find and take out items. Depending on your cooking style, this type of cabinet is a must-have if you use large pots for cooking up sauces or curries.
They are big and strong and enjoy doing the heavy lifting. They are often humble but know their importance in a well-designed kitchen.
Open Cabinets
Open cabinets have no doors and feature open shelving for storing or displaying various items. This type of cabinets is perfect for keeping cookbooks or displaying something decorative.
The personality of this type of cabinet is a bit of a show-off. They like to be noticed and appreciated. They hate dust!
Corner Cabinets
Corner cabinet storage can be a nice way to use the space of a corner. They may also include a Lazy Susan internal structure. A Lazy Susan makes seven better use of the corner area of your kitchen.
This type of cabinet wants to fit in and finds excellent ways to do so.
Super-Storage Cabinets
Who doesn't want to have a super cabinet in their kitchen? These are the overachiever cabinets of the kitchen. A super storage cabinet can often be the 'chef's pet' and lead to the other kitchen cabinets being jealous.
These kitchen cabinets are available in numerous varieties. You can work with your kitchen designer to have a super cabinet with adjustable pull out shelves, pull out wire racks, and generous door storage racks.
A well-known statement that people often make about the super cabinet is that "I just don't know how she manages to do it all!". This is the sign of a true overachiever and this type of kitchen cabinet loves it when he hears people exclaim this.
Kitchen Island Cabinets
Many people want a kitchen island that is both attractive and functional. Island can accommodate cabinets and add significant storage capacity to your kitchen.
Cabinets built into an island often like to be the center of attention.
Consider an island design which includes a super cabinet. Do this with care as the combination of a super cabinet designed into an island may make all the other kitchen cabinets extremely jealous even if they keep it to themselves.
Window Seat Cabinets
Who says a ‌window seat cannot double as a place for kitchen storage? Use low-profile drawer base cabinets to create window seating in your kitchen or breakfast area. You can use them in any room where you could design in extra storage.
These type of cabinets are quiet in nature and often just enjoy the view.
Recycling and Trash Cabinets
OK, last but certainly not least are cabinets that are designed for trash or recycling. These cabinets are so important. They are available with removable tubs for keeping recycled materials and trash hidden from sight. Certainly, design this cabinet and layout to make them easy to empty.
No one really likes to talk about trash and these cabinets often feel they are not fully appreciated. However, they know how valuable they are.
A Harmonious Kitchen Design
Most importantly, when you are thinking about your new kitchen, think about the layout and how to maximize the usefulness of your kitchen cabinets. Be creative! Blend the various types of kitchen cabinets together for an optimal look and maximum functionality.
If you have some ideas or perhaps some questions feel free to give Kitchen & Bath Creations a call at 410-772-3240. Also, we now have showrooms located in Columbia, Perry Hall, and Annapolis. Stop by any time!
Toi Renee Patterson
Toi Renee Patterson is the Marketing and Advertising Coordinator for Kitchen & Bath Creations in Columbia, Maryland. Toi is ecstatic with her role at KBC because of the value the company places on its employees and their shared interest in design esthetics. She loves all things related to home design, and functional kitchens in particular. For the past 30 years, Toi has been providing businesses with marketing and administrative support and has enjoyed being involved in many successes. An HGTV fanatic and "wanna-be-designer," she now has the best of both worlds. With the help of the KBC Team (experienced professional designers), Toi will be sharing ideas that can easily be incorporated into your own home, from clever storage solutions, to "must-have" kitchen accessories, to incredibly tasty and easy-to-make recipes, and more.