Refresh Your Bathroom With a Beautiful New Vanity
If the kitchen is the heart of the home, then the bathroom is its soul. It's where we set the stage for a productive day and prepare for a peaceful night. So if a bathroom refresh is on your renovation wish list, let's take some time to get it right.
Best Bathroom Vanity
A sparkling, modern bathroom can mirror some of the luxurious touches you've incorporated in the home's heart. Much like kitchen cabinetry, bathroom vanities come in various styles, sizes, colors, and materials to suit your family's needs and your home's design style.
Kitchen & Bath Creations (KBC) has partnered with Bertch Cabinetry to offer you plenty of bathroom vanity options. Nestled in the heart of the Midwest, Bertch has been reviving the cherished art of traditional cabinetmaking for more than 40 years. All products reflect a commitment to reforestation, recycling, and general respect for the environment. Bertch utilizes only the finest wood, furniture joints, and exceptional finishes to create distinct products for the home.
This post will feature four types of vanities—furniture-style vanity, single-sink vanity, double-sink vanity, and the floating vanity.
Furniture-Style Vanity
Furniture-style vanities add character without crowding the room, making them perfect for small bathrooms.
These vanities have stylish legs and open storage, perfect for holding bathroom décor or necessities. They offer a unique element to any bathroom, from traditional to contemporary, and come in many sizes, ranging from 24" to 72" in width.
Single-Sink Vanity
A single-sink vanity can provide a modest but notable transformation to a small guest bathroom or powder room and fits well with any décor. Multiple sink options, such as a vessel, integral, or under-mount, allow you to express your unique personality. Choose a piece that complements your kitchen cabinetry and the overall style of your home.
Double-Sink Vanity
A double-sink vanity is most fitting for a mid-sized or larger-sized bathroom. They are practical and functional for shared spaces and make getting ready in the morning a breeze. Imagine applying makeup while your partner shaves and not bumping into each other; children brushing their teeth without conflict. Ahh…the good life!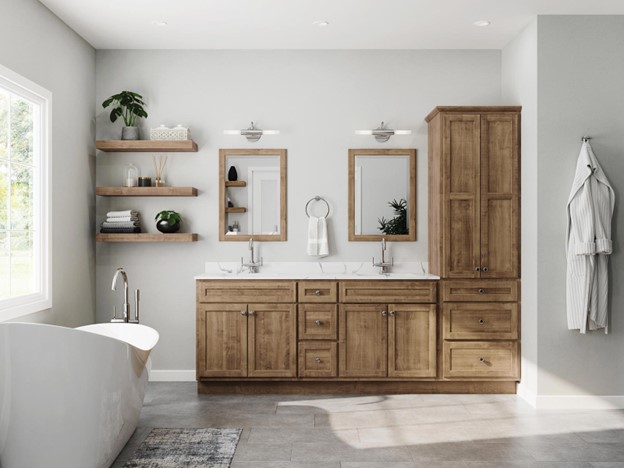 A spacious bathroom is on just about every homeowner's wish list. Whether this much-envied space is inherent to your bathroom or you have found a way to enlarge the space, a good design that includes a double-sink vanity can improve your quality of life.
Your designer can detail all your new cabinets and drawers according to your family's needs. This may include vertical cabinetry on the countertops and more drawers than doors for easier access to your products and a more custom look.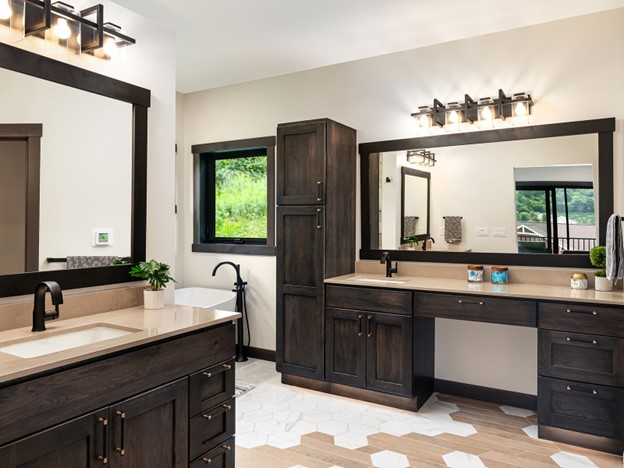 Sometimes, a side-by-side double vanity won't quite fit your bathroom design. In this case, you can try a custom option with two separate vanities in separate locations (displayed above). If you lean toward a more eclectic design, you can select different shades for a brighter, more colorful bathroom.
Floating Vanity
Consider a floating vanity for a minimalistic look that exudes luxury and elegance. They are beautiful and can be customized for your specific needs. While used in any-sized bathroom, floating vanities are ideal for smaller bathrooms or powder rooms where space is limited. They are not connected directly to the floor but mounted on the wall, which creates a more open and airy feel. Floating shelves above or a bench below can be added for storage.
Woods and Finishes
Bertch vanity cabinets come in six different wood species (alder, birch, cherry, hickory, oak, and walnut). Finishes include wood stains in seven shades, ten paint colors, and eight thermofoil options.
Bathroom Vanity Sizes
Bertch bathroom vanities are offered in two different heights (31" or 34 ½"), two depths (18" or 21"), and 13 different widths ranging from 24-72 inches. Additionally, linen cabinets and wall cabinets are offered in various sizes.
Choosing Your Countertop
A bathroom countertop accentuates your chosen vanity and can serve as a stunning focal point. The surface you choose depends largely on your budget and taste. You want your countertop to be visually appealing and durable, capable of standing up to water, soap, and cosmetics over time.
Here is a close look at some of the top bathroom countertop materials on the market and the pros and cons of each.
Granite
Granite remains a top choice among natural stone countertops due to its dramatic beauty and variety of colors and patterns.
Pros:
Granite is hard and scratch resistant and requires minimal upkeep when properly sealed
It's impervious to humidity or damage from a hot curling iron.
It lasts just about forever
Because granite is so desirable, it's likely to add resale value to your home
Cons:
Transport and mining require extensive energy resources
Marble
Marble countertops can bring timeless beauty to any bathroom, giving your bathroom vanity a rich, sleek look synonymous with wealth and privilege.
Pros:
Marble is much more durable than synthetic materials, and they are not likely to burn when exposed to heat (such as from a curling iron or hair straightener)
Marble countertops are also extremely strong, and they are much harder to damage or crack than tile
Cons:
Marble is more expensive than other materials
Its porous nature makes it prone to stains, scratches, and etching from acidic substances
Requires sealing every year or two to maintain the finish
Quartz
Quartz is one of nature's hardest and most abundant minerals. Quartz bathroom countertops are beautiful, durable, and complementary to many different styles and designs. Whether you want something bold or subtle, you can achieve it with quartz.
Pros:
Quartz is tougher than granite and doesn't require sealing
It is naturally resistant to moisture, stains, and bacteria
It has a variety of edge treatments and installation options
Cons:
Quartz can be pricey
Honed and textured finishes will show fingerprints and smudges so frequent wipe-downs may be necessary
Cultured Marble
Cultured marble is made from crushed marble mixed with a highly durable resin to create a near-perfect imitation of natural stone. The resulting material is designed to resist water and mold, making it perfect for bathroom countertops. It gives a sophisticated, classic look to any bathroom.
Pros:
Attractive and highly customizable
An economical alternative to natural marble
All-in-one design with integrated sink eliminates seams
Nonporous and resistant to stains from hair dye, shampoos, and other beauty products commonly found in the bathroom
Moisture-resistant and easily cleaned with mild soap and a microfiber cloth
Cons:
Vulnerable to scratches that can be difficult to repair
Incredibly high heat can damage the surface
Tile
Ceramic tile can be a charming and informal surface material that can be easily paired with coordinating backsplashes and tub surrounds.
Pros:
Glazed ceramic tiles are resistant to heat, stains, scratches, and moisture
Tile is affordable, and individual tiles can be replaced if damaged
The installation and pattern can be customized
Cons:
Grout can attract stains and mildew and can be difficult to keep clean
Tiles can crack or chip
Wood
Wood countertops offer a warm, inviting feel and an organic look. They are a perfect complement to the modern farmhouse style, which is currently very popular.
Pros:
Wood countertops are all natural and have a low carbon footprint, with reclaimed wood and bamboo being the most eco-friendly
Wood countertops are warm to the touch unlike quartz or granite which feel cold
They have a long life span since you can sand and resurface them multiple times
Easy to install and easy to clean
Cons:
Wood is a softer material making dents and scratches more visible
Regular sealing and oiling are required to protect against stains, scratches, and moisture damage
Sensitive to both cold and hot temperatures (burns show up easily)
When wood is exposed to extremely high or low temperatures, it expands and contracts, which can cause it to crack, warp, and cup
Water left on the surface can quickly wreck the wood. You'll need to remain vigilant about keeping the countertops dry
Maximize Your Bathroom Space with Storage
Keep your bathroom looking clean and simple with discreet storage. There are plenty of storage solutions to help maximize your space, adding function and style to your bathroom.
Bertch offers linen cabinets with concealed drawers, wall cabinets, medicine cabinets, floating shelves, under-sink caddies and pull-out drawers, hampers, and hair appliance organizers. All are customizable and can easily be integrated into your bathroom.
The Finishing Touches
So you've chosen the perfect vanity and countertop for your bathroom, but the renovation is not complete without some finishing touches—something to give it that WOW factor!
For instance, you can add elegance with matching mirrors above the double vanity and lighting for both function and style.
Next, don't forget your holding accessories (toilet roll holders, towel rings, and soap dispensers). Finally, link everything together and finish the look with hardware. Our showroom has bathroom hardware in every finish and style imaginable.
Kitchen & Bath Creations can help you design a bathroom that refreshes the soul. We want your bathroom to look amazing and hope we have given you some great ideas. Through our partnership with Bertch Cabinetry, we can offer you a variety of vanities, countertops, and other bathroom accessories. Visit one of our three Maryland showrooms to get started!
Toi Renee Patterson
Toi Renee Patterson is the Marketing and Advertising Coordinator for Kitchen & Bath Creations in Columbia, Maryland. Toi is ecstatic with her role at KBC because of the value the company places on its employees and their shared interest in design esthetics. She loves all things related to home design, and functional kitchens in particular. For the past 30 years, Toi has been providing businesses with marketing and administrative support and has enjoyed being involved in many successes. An HGTV fanatic and "wanna-be-designer," she now has the best of both worlds. With the help of the KBC Team (experienced professional designers), Toi will be sharing ideas that can easily be incorporated into your own home, from clever storage solutions, to "must-have" kitchen accessories, to incredibly tasty and easy-to-make recipes, and more.