Do you install cabinets in other areas of a home?
Do you install cabinets in other areas of a home?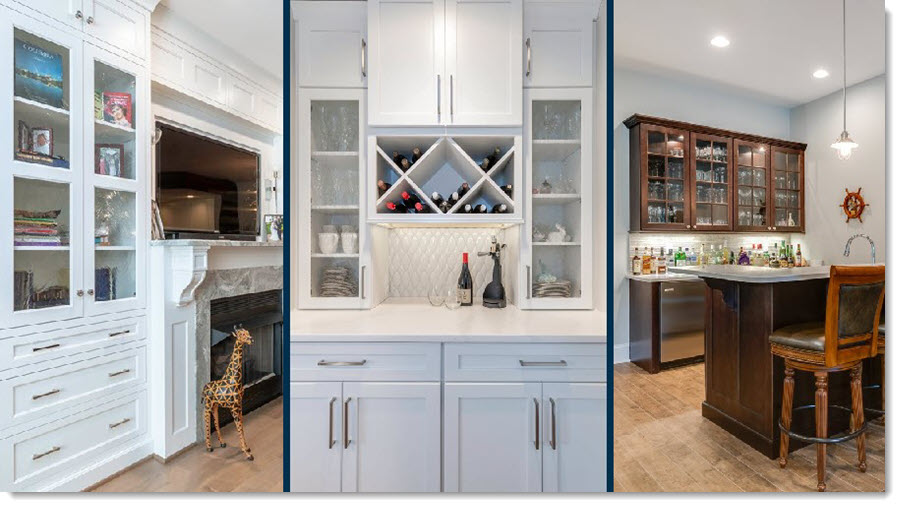 The simple answer is YES! We can install cabinets in any area of your home that calls for attractive, functional storage. If the objective is for your home to have a fully integrated and cohesive look, we'd love to help.
Kitchen cabinets are not just for kitchens. In fact, we can customize cabinets to meet all of your storage needs.
If you've thought about it, we've done it:
Wet bar cabinetry
Custom bookshelves in your great room
Wall mounted storage in your office
Storage in your craft or sewing room
Toy storage in your child's bedroom
Laundry room storage
Tool room storage
Walk-in closet built-ins
Mudroom cabinetry
Choosing the same high-quality cabinetry used in the kitchen for other areas of your home is extremely valuable. All cabinetry can have the same style and finish, which creates a unified polished look and will also save you time and money.
Many newer homes have matching kitchen, bathroom, and laundry room cabinets. Builders use this approach because it is very cost effective. You can reduce cost and complexity when materials, finish, and paint colors are similar (or even the same). This saves times and is budget-friendly.
Some people want to design storage for distinct parts of their home with cabinet variations. Professional interior designers do this all the time. They mix cabinet materials, cabinet doors and colors. As a home owner you need to decide whether a lower cost approach or an approach that includes cabinet variety is best for you. Either way, a designer at Kitchen & Bath Creations (KBC) can help.
Budget Considerations
Selecting a single cabinet style for your home, no matter where the cabinets will be located, will be budget-friendly. You could add some variation with different stains or paint colors.
The kitchen designers at KBC will ask the right questions and help you to make the proper selections. We can define options and provide pricing so that informed decisions are made and your project remains within your budget.
Meshing Other Rooms and Transition Areas
Changing materials and colors can create a more custom, high-end look if done right, meaning colors and styles complement each other. You do need to be careful not to create a cluttered, mismatched, or half-finished look.
The same design guidelines that are true for wall colors, furnishings, accessories, and flooring are true for cabinets and countertops. Just as you don't need to match every piece of wood furniture in your home or make every wall the same color, you don't need to do so for your cabinets either.

However, it is important to mix styles and color palettes with care. There should be some element of color and style that ties everything together.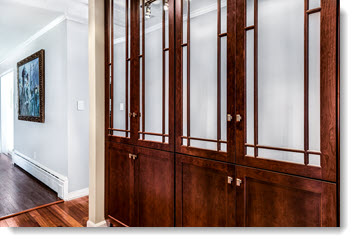 In order to achieve an integrated consistent look, choose a design style for your kitchen, such as traditional or contemporary, and stay with this format throughout your home.
Your designer will help you review the various options within that design style and you can choose which cabinets will work well together.
When selecting cabinetry for other rooms and transition areas, a well-meshed look is very important. A KBC Designer can ask the right questions and help you bring everything together.
However you choose to maximize the space in your home, we can help define your cabinetry options; work with you to create a properly integrated look; and keep your project on track from a budget perspective.
Stop by one of our showrooms. We are in Columbia, Perry Hall, and Annapolis. We would love to discuss your ideas and help you attain your goals.
Kitchen & Bath Creations – Our Newest Showroom is in Annapolis, Maryland!
Toi Renee Patterson
Toi Renee Patterson is the Marketing and Advertising Coordinator for Kitchen & Bath Creations in Columbia, Maryland. Toi is ecstatic with her role at KBC because of the value the company places on its employees and their shared interest in design esthetics. She loves all things related to home design, and functional kitchens in particular. For the past 30 years, Toi has been providing businesses with marketing and administrative support and has enjoyed being involved in many successes. An HGTV fanatic and "wanna-be-designer," she now has the best of both worlds. With the help of the KBC Team (experienced professional designers), Toi will be sharing ideas that can easily be incorporated into your own home, from clever storage solutions, to "must-have" kitchen accessories, to incredibly tasty and easy-to-make recipes, and more.