How should I estimate the cost to remodel my kitchen?
How should I estimate the cost to remodel my kitchen?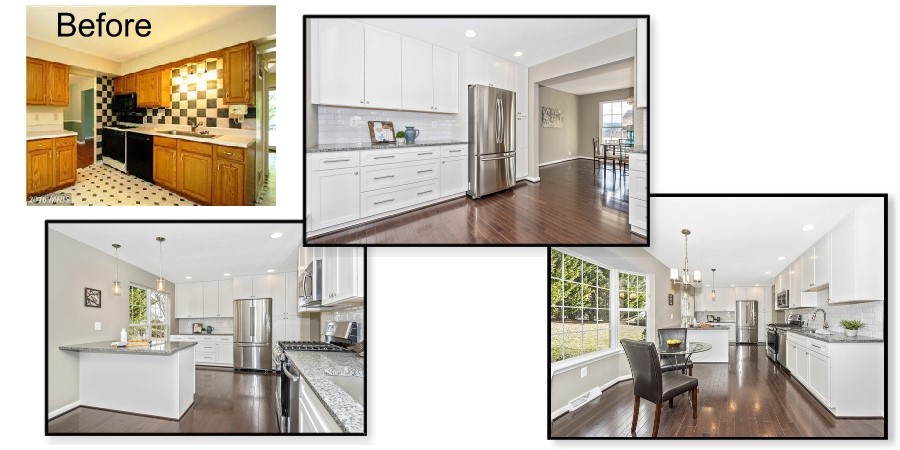 You Want to Remodel Your Kitchen–Wonderful!
How Much Should You Spend?
Establishing a budget is probably the single most important part of the kitchen remodeling process, as it defines the possibilities, the materials, the accessories, and who you will work with. Ultimately, it will help you define the plan for your kitchen remodel.
As much as it is a necessary part of the process, establishing a budget for your kitchen remodel can be both confusing and overwhelming. This article will help you determine just how much to spend on your kitchen remodel, how those costs break down, and also show you some ways to cut costs.
Based on our experience, a medium sized kitchen renovation typically runs around $20,000 on the low end and up to $80,000 on the high end. To determine how much you will spend on your kitchen remodel, consider these three factors:
How much can you afford?
How long do you plan to stay in your house?
What's your neighborhood like?
Consideration #1
How much can we afford?
This sounds like a pretty straight forward question, but it's not always that simple. There are many ways to pay for a kitchen remodel, including refinancing, taking out a personal loan, or taking a loan against a retirement plan.
If you are planning to pay cash for your kitchen remodel, think about how much you have in savings and how much of that money you could comfortably put towards the cost of your remodeling project. Keep in mind that it is smart to keep at least a few months' salary as an emergency fund.
Once you have a clear picture of your financial situation, set your kitchen remodeling budget and stick to it. This can be difficult, but a qualified kitchen designer can help you stay on track.
Consideration #2
How long do you plan to stay in your house?
As the heart and hub of the home, the kitchen is where most family memories are made. If are creating your forever home, design a kitchen that will make you and your family the most comfortable for many years to come. We recommend you select a style and details you will love, spending no more than 10% of your home's value on your kitchen remodel.
If you are planning on selling your house within five years, then your kitchen renovation should be viewed as an improvement on a real estate investment. Real estate agents love it when a home has a nice and attractive kitchen as it makes it easier to sell the home. That said, you should be able to spruce up your kitchen for resale spending no more than 5% of your home's value.
Consideration #3
Your Neighborhood
A well thought out kitchen remodeling plan will include a kitchen that is highly functional and well appointed with modern appliances and attractive kitchen cabinets. But it should also be on par with other homes in the neighborhood.
What is your neighborhood like? Is it modest or upscale? If your home is over-improved for the neighborhood, you will lose money on your investment when it's time to sell. In other words, designing a high-end luxury kitchen for a middle-class neighborhood may not be the wisest investment strategy.
Conversely, if your kitchen is missing all the bells and whistles commonly found in your neighborhood, your chances of a quick sale at market value is highly diminished.
Taking these three factors into consideration can help you determine your magic number; and this number will determine the scope of the project. Once you have determined how much to spend on your kitchen remodel, it is important to know just how those costs should break down.
Home Advisor states that on average a kitchen remodel in 2019 costs $23,142 or $150 per square foot (PSF). Most homeowners spend between $12,545 and $34,416 or $75 to $250 PSF. A smaller project between $10,000 and $15,000 may include painting walls, refacing cabinets, upgrading the sink, and installing a tile backsplash. A $30,000+ renovation my include installing custom cabinets, hardwood floors, granite counters, and high-end appliances.
Here is a table to help you understand kitchen remodeling costs based on the scope of your project.
Use this breakdown as a guide for how the costs of individual aspects of the project can be assigned. This will give you a better idea of the budget you'll need or the renovations you can cut back on.
Cabinetry and Hardware: 28%
Appliances and Ventilation: 15%
Countertops: 10%
Installation Labor: 18%
Lighting: 4%
Faucets and Plumbing: 4%
Flooring: 6%
Backsplash: 5%
Contingencies: 10%
You will notice that we have set aside 10% for contingencies. We recommend you set about 10-15% of your total budget for that special surprise. Particularly in an older home, from time to time something unexpected comes up. You would not want to put the project on hold due to an unexpected expense. Also, note that unexpected items are more likely to occur with a project that involves moving utilities, walls, doors, and window. You can estimate on the low side for unexpected expenses if you will only replace the kitchen cabinets and appliances.
Question 3
How can you save money on a kitchen remodel?
We realize that a budget may mean some constraints on spending. We also know that kitchens have become bigger over time and even smaller homes have kitchens with luxury features and cabinets.
Here are some ways to have a nice kitchen remodeling result and ways to trim costs too.
Shop Smart: Start researching items and options to purchase them early. Take advantage of sales, closeouts, and special offers.
Do Not Move Walls, Doors, and Windows: Any big structural changes can really push up the cost. Work with a kitchen designer who can get the most out of your existing kitchen footprint.
Work with a Kitchen Designer: A designer will have significant experience with all the details associated with a kitchen remodeling project. Tap into this experience, as it can help to preserve your budget.
Manage the Work: Even if you do not have sufficient DIY skills or tools, you can still act as the general contractor if you have good organizational, communication, and management skills.
Choose Countertops with Care: Look for discounts and sale. Countertops can be expensive but for resale of the home can make a big contribution.
Study Options: Go online and look for kitchen remodeling blogs. You can find books that may help at your local library or bookshop. The more you know, the more the result will match your expectations.
The combination of design expertise along with a fine selection of products make Kitchen & Bath Creations the place to visit for your next kitchen or bath project. We can apply our expertise and experience to your remodeling project to help you achieve the results you want, all while staying within your budget.
Visit one of our three showrooms–conveniently located in Columbia, Perry Hall, and Coming Soon to Annapolis.
Toi Renee Patterson
Toi Renee Patterson is the Marketing and Advertising Coordinator for Kitchen & Bath Creations in Columbia, Maryland. Toi is ecstatic with her role at KBC because of the value the company places on its employees and their shared interest in design esthetics. She loves all things related to home design, and functional kitchens in particular. For the past 30 years, Toi has been providing businesses with marketing and administrative support and has enjoyed being involved in many successes. An HGTV fanatic and "wanna-be-designer," she now has the best of both worlds. With the help of the KBC Team (experienced professional designers), Toi will be sharing ideas that can easily be incorporated into your own home, from clever storage solutions, to "must-have" kitchen accessories, to incredibly tasty and easy-to-make recipes, and more.