Kitchen and Bath Design Color 2018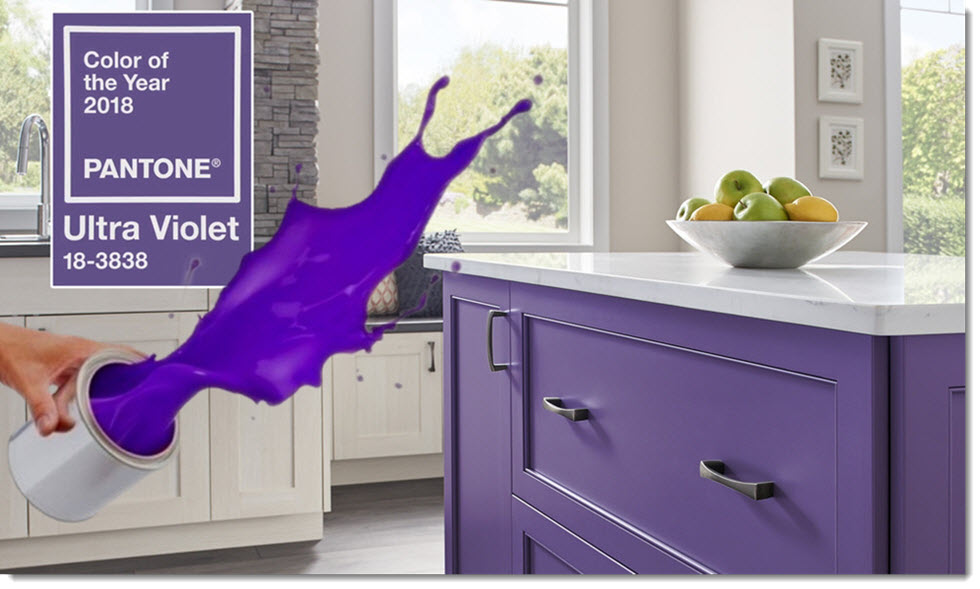 Color affects people in many ways, depending on age, gender, ethnic background and
even climate. Certain colors (or groups of colors) tend to get a similar reaction from most people; the variations come from the shades or tones used. It is so important to choose colors wisely when it comes to kitchen and bathroom designs. Let KBC Direct help you with this important color selection process.
This blog emphasizes the importance of color selection and will do this using the color of the year for 2018 which is PANTONE 18-3838 Ultra Violet.
Any kitchen or bath color can be used in many ways. Your entire room can be painted with a specific color which can work well in some cases such as using white. However, with something more dramatic – such as Ultra Violet – it would be appropriate to emphasize something using this color.
For more dramatic colors consider how they can be used to focus attention by painting a focal piece of furniture or a section of a wall.
The colors you select will also have an impact on the feeling and mood of the space. For those who may want to increase their reflective and motivational state then purple hues are an excellent choice. This means that Ultra Violet is a perfect choice.
This year's color is rich, dramatic, and sophisticated. It is a color often associated with luxury and creativity. It can be applied as an accent or a secondary color and will add both depth and suggests experience which is always something someone who is serious about their kitchen and their associated cooking wants.
Ultra Violet, or Pantone 18-3838, is a complex, celestial shade of purple, that calls to mind the vastness of all the potential recipes and cooking techniques. It helps to increase our powers of spirituality (something we may want to enhance when sinking into a hot
bath). Ultra Violet will help to increase creative expression in all its forms.Nuanced and full of emotion, the depth of PANTONE 18-3838 Ultra Violet symbolizes experimentation and non-conformity, spurring individuals to imagine their unique mark on the world, and push boundaries through creative outlets.
How do you get started with the color selection of your new kitchen? What mood do you want to create? Which colors will help you achieve that mood?
Look at magazines, decorating books, blogs, and websites for ideas. Visit Kitchen and Bath Creations and sit and have a cup of coffee with one of our designers and discuss ideas and concepts. It will be both fun and rewarding.
Also, let your textiles be your guide. Fabric, carpeting, furniture, and tile are available in a more limited range of colors than paint, so choose these items first and then decide how to create the complete look and feel by blending in Ultra Violet. A KBC Designer will be happy to help design in just the right amount of this dramatic color.

We have found that some people are fascinated by this year's Ultra Violet, while others are intrigued and want to explore the possibilities. If you fall in the latter category, you can bring this color in through smaller, less bold ways, without making any big changes or investments. Thoughtful touches of Ultra Violet can be used via kitchen accents such as with window trim or towels and cushions or artwork to add warmth and distinction to your kitchen. Because it's such a lush, deeply saturated hue, Ultra Violet can have a large impact even in small doses, while still looking restrained and elegant.
In the bathroom, it can create a feeling and mood that helps you to relax just like a lavender scent. Again small accent can have a big impact or you could paint an entire wall and ceiling with this wonderful color.
Stop by Kitchen and Bath Creations in Columbia. We will be happy to meet with you and outline some ideas. This year's color of the year – PANTONE 18-3838 Ultra Violet – is a fun and exciting color and KBC will help you to make your kitchen or bath remodeling project fun and exciting too!
Gary Horsman
Gary is a consultant for KBC. He enjoys working in the kitchen whether it is cooking up a New Orlean's style Gumbo or a spicy curry. Socializing in his home is often centered around the kitchen as this highly social room is between the deck - also used for entertaining - and the dining room.