Kitchen & Bathroom Color Trends For 2019
Kitchen & Bathroom Color Trends For 2019
Cold weather is officially behind us, spring has sprung, and in comes Pantone's Color Of The Year—Living Coral!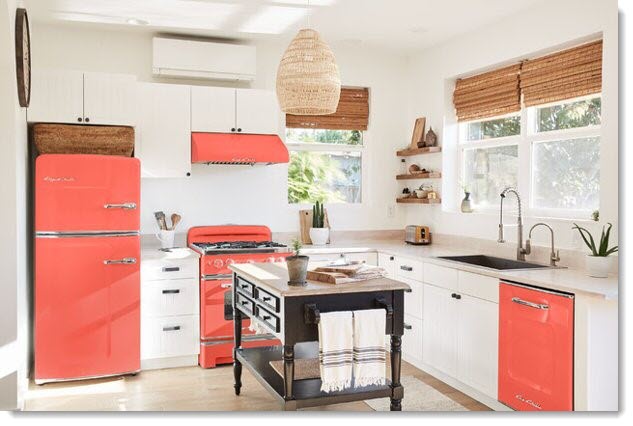 Pantone's Living Coral
"Pantone's 2019 color of the year was chosen for its animating and life-affirming hue which energizes and enlivens with a softer edge. This year's Living Coral evokes the beauty and fragility of our marine life and oceans and is a subtle reminder that coral is only possible if it's surrounded by a healthy environment."
Happy Kitchen, Happy Home!
Coral is a fresh, vibrant, modern color that can add personality and style to any room in the home. Looking for a way to bring "cheer" to the heart of the home?
Create a welcoming and uplifting atmosphere in your kitchen using Pantone's Living Coral. While white and gray are still the most popular color choices for kitchen cabinets, designers are finding many ways to add touches of vibrant colors into the mix.
One way to introduce an unexpected color, such as Living Coral, into a kitchen is through appliances. Big Chill Appliances has introduced "New Coral" to their custom color lineup for 2019.
"Ever dreamed of a coral refrigerator? A coral-colored stove? How about a coral microwave? Good News—Big Chill has got you covered!"
If you're ready to get on board with colorful kitchen appliances, make sure the rest of your color palette is light and neutral and your kitchen has an abundance of natural light.
Your KBC Kitchen Designer can help you coordinate other colors and finishes with your chosen appliance color.
Not ready to go all-in with Pantone's Living Coral? A favored way to use a daring color is the front door. Welcome visitors to your home with this year's energetic and inviting Living Coral.
Or add a dramatic pop of color to any room of the house through decorative accessories.
Bring this year's special shade into your kitchen and bathroom designs and illustrate the dynamic nature of Living Coral within various combinations.
Toi Renee Patterson
Toi Renee Patterson is the Marketing and Advertising Coordinator for Kitchen & Bath Creations in Columbia, Maryland. Toi is ecstatic with her role at KBC because of the value the company places on its employees and their shared interest in design esthetics. She loves all things related to home design, and functional kitchens in particular. For the past 30 years, Toi has been providing businesses with marketing and administrative support and has enjoyed being involved in many successes. An HGTV fanatic and "wanna-be-designer," she now has the best of both worlds. With the help of the KBC Team (experienced professional designers), Toi will be sharing ideas that can easily be incorporated into your own home, from clever storage solutions, to "must-have" kitchen accessories, to incredibly tasty and easy-to-make recipes, and more.