Kitchen Cabinetry Strategic Partnership Award
Kitchen Cabinetry Strategic Partnership Award
Partnership Team of Kitchen & Bath Creations
and Woodmont Cabinetry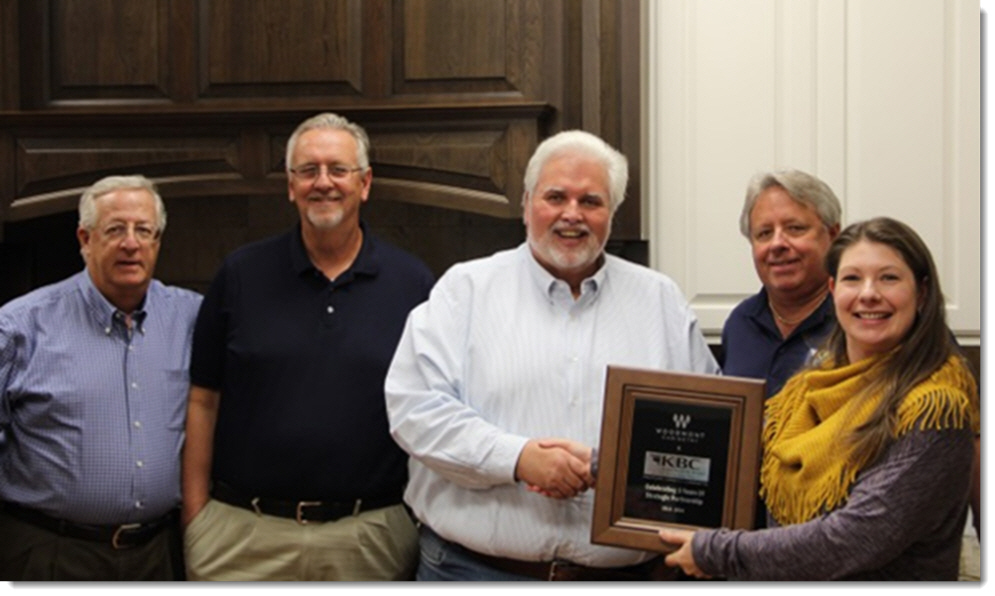 Pictured from left to right: Brian Edinger (Woodmont), John Lang (KBC), Noel Dalton (KBC), Jeff Myers (KBC), Jaime Foster (Woodmont)
Recently KBC was honored with a partnership award from Woodmont Cabinetry.  This award is in recognition of our history of working together to provide excellent customer service and unique kitchen cabinetry designs to our clients. Woodmont Cabinetry has been a top-of-the-line kitchen cabinetry company since 1953 and is committed to using  American-made materials and American labor–keeping jobs in our local communities.  They are also doing their part to protect our environment, our natural resources, and our children's future by maintaining company-wide sustainability standards.
We are proud to collaborate with Woodmont Cabinetry as they look to the future and continue to stay steps ahead of kitchen and bath cabinetry design trends. Our visionary partnership enables us to offer even more unique customization options to you–our clients. Woodmont Cabinetry is always eager to transfer product knowledge and expertise through periodic training, and KBC designers are committed to 100% participation in these classes. At KBC, we realize a great kitchen or bath doesn't just happen, and we can't wait to help you create the space of your dreams!
Tags: Awards, Kitchen Cabinetry, Kitchen Cabinetry Awards, Woodmont Cabinetry
Toi Renee Patterson
Toi Renee Patterson is the Marketing and Advertising Coordinator for Kitchen & Bath Creations in Columbia, Maryland. Toi is ecstatic with her role at KBC because of the value the company places on its employees and their shared interest in design esthetics. She loves all things related to home design, and functional kitchens in particular. For the past 30 years, Toi has been providing businesses with marketing and administrative support and has enjoyed being involved in many successes. An HGTV fanatic and "wanna-be-designer," she now has the best of both worlds. With the help of the KBC Team (experienced professional designers), Toi will be sharing ideas that can easily be incorporated into your own home, from clever storage solutions, to "must-have" kitchen accessories, to incredibly tasty and easy-to-make recipes, and more.