Kitchen Countertop Materials
Granite vs. Quartz–KBC Weighs In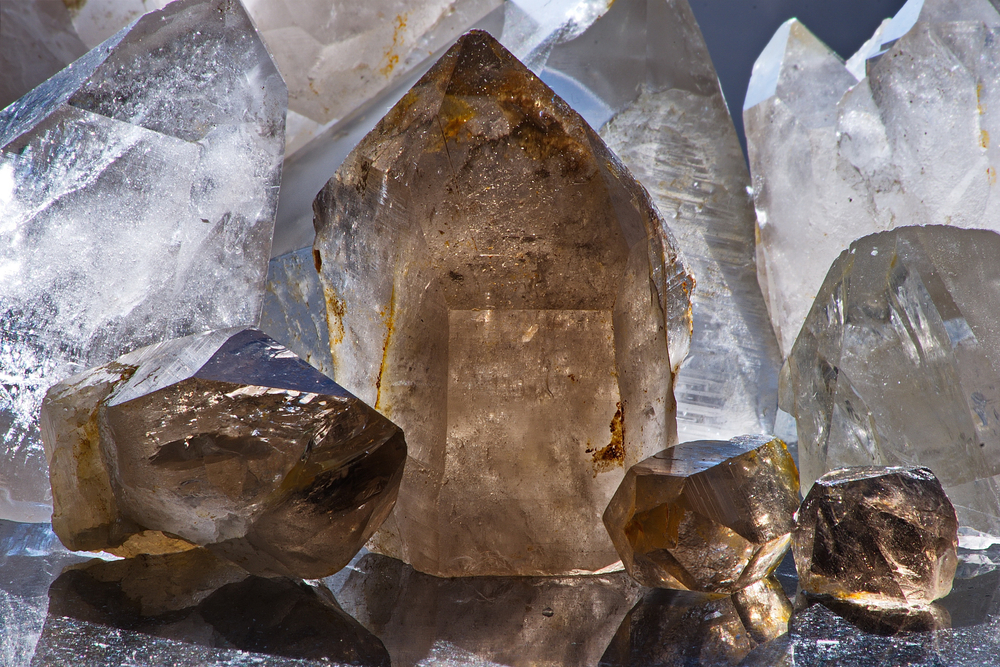 The countertop selection is an integral part of your kitchen design. The materials, colors, and patterns need to blend with the cabinets, flooring, and appliances. Moreover, a great deal of kitchen activity happens right on the countertops.
While there are many countertop options out there, this blog post will discuss the two most popular in kitchens today—granite and quartz.
Nothing Beats the Real Thing
Are you the type of homeowner who really enjoys having natural materials in your home? Have you chosen solid wood flooring over laminate? Do you prefer wool area rugs to nylon? Is your home's siding wood, not vinyl? Are your upholsteries all natural materials? If this sounds like you, no doubt you will appreciate the natural beauty of granite and see its potential flaws as character.
What Is Granite?
Granite is a very hard stone and 100% natural. Each sheet of granite is different with a lot of beautiful details given to it from mother nature. Granite countertops are mined from the earth, cut from large slabs into a manageable size, and then polished to a fine finish. When you look at a natural stone like granite, you see the striations and slight color changes that make the stone unique. The color and design are real, not engineered.
If you desire an authentic stone that resembles a unique work of art, then granite is your only choice. In addition to its aesthetic appeal, solid granite slabs make very durable countertops and can help boost the value of your home. An excellent choice indeed!
Having made that choice, here are some things to keep in mind about your granite countertops.
Because granite is porous, it needs to be sealed and re-sealed every year to help resist stains and bacteria. Even when the granite is sealed, messes should be wiped up with a cloth as quickly as possible to prevent staining.
Due to the variations found in granite, seams are less visible than in any other countertop material. We recommend professional installation for the best possible results.
Granite is formed from molten minerals, which means it is naturally impervious to damage from high temperatures. However, since the sealant used on the granite can become damaged from extreme heat, it is best to use a trivet for your hot pots and pans.
You can cut directly on granite without scratching the surface. However, the stone will dull knives; therefore, it is best to use a cutting board when preparing food.
Granite does not fade when exposed to natural sunlight. If you dream of a bright and cheerful kitchen with large windows that allow sunlight to stream in, go for it!
Eye-Catching ∙ Easy-Care ∙ Engineered
Whether your kitchen is modern, traditional, contemporary, or transitional, quartz countertops come in an array of options to suit any style or décor. They are easy to maintain, non-toxic, and non-allergenic. No wonder homeowners are in love with this stunning man-made material.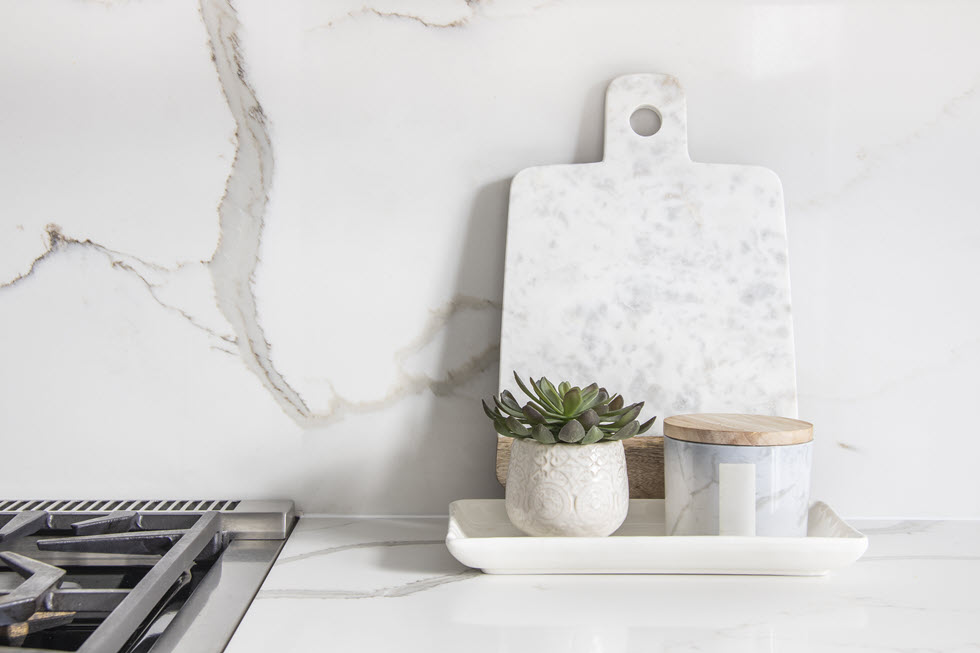 How Are Quartz Countertops Made?
Quartz is an engineered stone consisting of approximately 90% natural ground quartz combined with approximately 10% polymer resin. It is a beautiful material created to mimic the look of natural stone.
Manufacturers create veins in interesting patterns swirled into the countertop slabs. These slabs of quartz then resemble granite, marble, or any other natural stone of your choice. The countertops come in many colors, patterns, and finishes that continue to impress, adding a unique "WOW" factor to your dream kitchen.
Here are some notable advantages of a quartz countertop:
Due to the resins used in its production, quartz countertops are nonporous and will not require any type of sealing. Clean up is a breeze, and the risk of staining is minimized. Additionally, nonporous surfaces like quartz protect against germs and bacteria.
Combining pigments and resins to ground quartz means your color options are virtually endless. Because the countertops are manufactured, they will be uniform in color and pattern. This consistency also means you can have a perfect match between your kitchen and bathroom countertops.
Because it can flex, quartz can be fabricated in larger pieces and with fewer joints. However, with larger spans of countertop, you can expect to see seams. To minimize the appearance of these seams, many homeowners choose a lighter colored quartz.
Quartz countertops are incredibly durable. The bonds between the quartz and resins make the surface hard to penetrate, making it highly scratch and stain resistant.
Quartz countertops are very low maintenance; however, there are a few things to keep in mind—excess heat from hot pots and pans and electrical appliances can damage your quartz countertops. Always protect them from excess heat by using trivets. Use a cutting board to protect your knives from damage. Finally, avoid harsh chemicals and scouring pads. Soap, water, and a rag will take care of most spills.
The Bottom Line
Both granite and quartz are premium countertop materials that add real value to a home. Granite appeals to people who like all-natural materials, while quartz offers easier maintenance and slightly greater durability.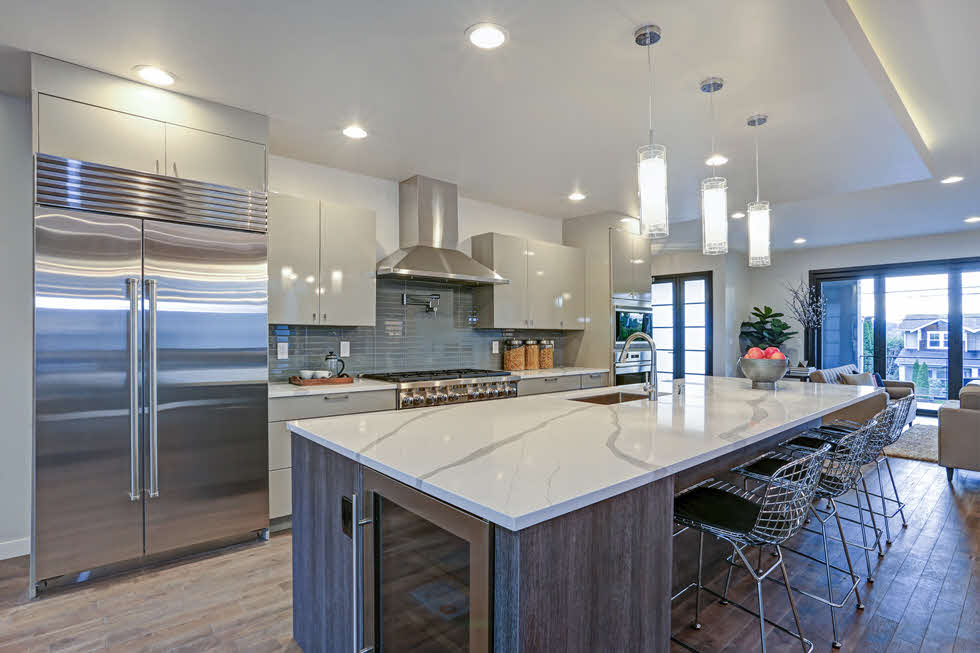 Kitchen & Bath Creations has three showrooms in Columbia, Perry Hall, and Annapolis, Maryland. Stop by any one of our design centers to browse a wide array of granite and quartz samples. When you're ready, one of our kitchen designers would love to help you choose the best countertop for your dream kitchen.
Toi Renee Patterson
Toi Renee Patterson is the Marketing and Advertising Coordinator for Kitchen & Bath Creations in Columbia, Maryland. Toi is ecstatic with her role at KBC because of the value the company places on its employees and their shared interest in design esthetics. She loves all things related to home design, and functional kitchens in particular. For the past 30 years, Toi has been providing businesses with marketing and administrative support and has enjoyed being involved in many successes. An HGTV fanatic and "wanna-be-designer," she now has the best of both worlds. With the help of the KBC Team (experienced professional designers), Toi will be sharing ideas that can easily be incorporated into your own home, from clever storage solutions, to "must-have" kitchen accessories, to incredibly tasty and easy-to-make recipes, and more.