Lighting Considerations for Your New Bathroom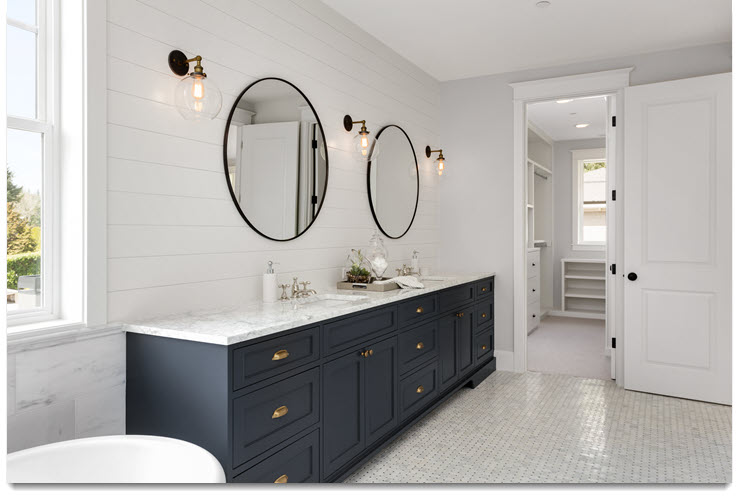 There are so many ways to light up your bathroom. Gone are the days when all people had as options were standard ceiling light fixtures. You will be amazed at the modern lighting ideas and concepts that can be applied to your bathroom makeover.
A savvy bathroom designer understands the important role that lighting plays in creating the look and feel you desire. With optimal lighting, you can create a place to relax and recharge that is truly beautiful and highly functional. And upon careful placement of light sources, you will be rewarded with a lovely place to both start and end your day.

Consider these ideas that can help transform your new bathroom from "blah" to brilliant!
Create a Bathroom Lighting Plan
As bathrooms become larger and more elaborate, designers develop lighting plans to match both the function and aesthetics of the space. Think of your bathroom lighting as a series of lighting layers. When you bring in different types of light fixtures you can coordinate them to meet the different needs of the space. This ensures every area of your bathroom is properly illuminated and allows for your own taste and flair.
Each area of the room serves a different purpose and may benefit from a different type of lighting, so think about the layout and the purpose while you consider your lighting choices and create your bathroom lighting plan.
A multi-purpose bathroom will utilize a layered lighting plan that includes ambient lighting, task lighting, accent lighting, decorative lighting, and natural light.
Ambient Lighting
Your bathroom is an important room and should be treated as such. You will want some of your lighting to create an atmosphere that invokes a relaxing and soothing feeling. Soft, glowing light radiates off light colored walls, ceilings, and other reflective surfaces to illuminate the entire room. These light fixtures cast a lot of light in all directions, over a larger space, without being too bright.
This ambient lighting can be provided by a central fixture, such as a surface-mounted ceiling light. However, there are certainly more creative choices than a practical and straightforward surface-mounted light fixture. You can be very creative.
Here are some nice ambient lighting options for you to consider:
A chandelier
Pendant lights
Modern LED strips
Task Lighting
Bright, direct, downward light applied exactly where it is needed, task lighting can be provided by track lights, or recessed lights, commonly known as pot lights.
However, pot lights are often burdened with lighting a whole room, when in fact they should only be one part of a full lighting scheme.
Sconces are a popular way to light up a vanity, but pendant lights have become a more stylish option. Both provide specialized and focused task lighting for activities such as shaving, applying makeup, or putting in contact lenses. When it comes to the placement of these light fixtures, it is important to light not just the space, but the face.
For this reason, wall-mounted light fixtures are commonly chosen in pairs–one on each side of the mirror. Together, a pair of sconces or pendant lights will evenly light the face from the sides, avoiding harsh shadows. Properly positioned, the light will hit your face rather than just the surfaces of the room.
Accent Lighting
Accent lighting utilizes softened light by reflecting it off other surface features to highlight or change the visual impact of the room. With up and down-lighting techniques, accent lighting can emphasize shadows to add depth, making a room look taller or more open.
Decorative Lighting
Like accent lighting, decorative lighting uses light to add emphasis to a room's design. A chandelier, or pendant lights can provide unique designs, while spotlights and LED strip lights are often used to call attention to artwork and other specific creative elements.
Natural Light
Many bathrooms lack natural light. Are you considering a major bathroom makeover, and can you add a window or expand the size of a window? Consider a transom window or skylight.
Few architectural structures and details survive centuries of passing trends and technological advances in the way that transom windows have. Installed above an existing window or bathroom door, a transom window adds natural light and a touch of class!
Skylights bring in an abundance of natural light. And if the skylight can be opened, it can also support increased bathroom ventilation.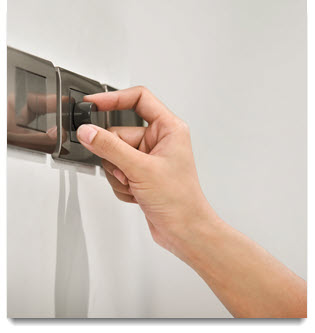 Bathroom Lighting Switches
So that you can choose just how much light to use, separate light switches make a lot of sense. And, you do not need to settle for a simple on/off switch. Installing dimmer switches provides you with excellent control over your lighting.
In a very small space like a powder room, using a dimmer switch for the vanity fixtures might even accomplish both ambient and accent lighting.
Bathroom Lighting Safety Concerns
The aesthetics created by your bathroom lighting is essential, but safety must be a top priority. Remember, electricity and water are a dangerous combination, and in your bathroom, water and electricity are mingled together. For a successful bathroom lighting project, always use a certified electrician, and choose fixtures with a moisture rating for damp areas.
Pictured above is a bathroom with a well-executed lighting plan. Note the different layers, from the ceiling down. The chandelier adds a nice touch while filling the entire bathroom with light. There is recessed lighting above the bathtub, and a large window brings in natural light. You have task lighting over the sinks, and lighting controls are conveniently located just as you enter the space.
Let Us Help With Your Bathroom Design
Your new bathroom doesn't just happen, it's a CREATION! One of KBC's expert designers would love to help you create the perfect bathroom.
Our design showrooms are conveniently located in Annapolis, Columbia, and Perry Hall, serving the Baltimore-Washington Metropolitan area.
Toi Renee Patterson
Toi Renee Patterson is the Marketing and Advertising Coordinator for Kitchen & Bath Creations in Columbia, Maryland. Toi is ecstatic with her role at KBC because of the value the company places on its employees and their shared interest in design esthetics. She loves all things related to home design, and functional kitchens in particular. For the past 30 years, Toi has been providing businesses with marketing and administrative support and has enjoyed being involved in many successes. An HGTV fanatic and "wanna-be-designer," she now has the best of both worlds. With the help of the KBC Team (experienced professional designers), Toi will be sharing ideas that can easily be incorporated into your own home, from clever storage solutions, to "must-have" kitchen accessories, to incredibly tasty and easy-to-make recipes, and more.