Create Your Color Palette
It is hard to imagine a world without color. Color is powerful! It heightens our senses and shapes how we relate to the world. It affects our mood, captures our attention, and can even cause alarm. Our brain assigns colors to everything we see and through this builds the framework for our memories and life experiences.
Many of these memories and experiences are created in the kitchen—the heart and hub of the home. It is where we begin our day, break bread with family and friends, and it's where our children study. Given the significance of this gathering place, it seems likely the colors used to decorate this well-used and loved space should be both energizing and easy to live with.
In every home, color grabs our attention first. A lack of color can make a home feel lifeless, while the right color palette can breathe life into your space and create excitement. Choosing the right colors for your dream kitchen is essential. The right paint color can bring together all the elements of your kitchen design—hardware, countertops, backsplash, appliances, and flooring.
"Industry experts look to 2022 and see a design landscape infused with colors that make us feel healthy, serene, and centered. These clarifying blues, delicate greens, and grounded earth tones nudge interiors awake and aim us at a horizon that's brimming with optimism."—Lauren Oster, HGTV.
So which hue is right for you? It is really a personal choice. Sure, you can follow color and design trends, but ultimately the colors you choose for your dream kitchen should reflect you and the overall style of your home.
However, a little inspiration never hurts! That is why we want to introduce the color-of-the-year ideas for 2022. Let's dive in!
Five Top Color Trends for Kitchens 2022
Just-The-Right Whites
Ocean Blues
Earthy Greens
Citrus Shades
Warm Earth Tones
Just-The-Right-Whites
According to the National Kitchen and Bath Association (NKBA), when it comes to kitchen design, whites and off-whites are still expected to dominate in 2022. A white kitchen is classic and never goes "out of style." You could say it's always "on trend" because a clean, white kitchen is always beautiful.
Want a simple white kitchen that still feels like a welcoming gathering spot for all? Opt for a warm, creamy white so that the kitchen doesn't come off stark and sterile. Designer Sarah Bartholomew suggests Sherwin-Williams' Snowbound* for the walls. Set it off with white kitchen cabinets, perfectly balanced with marble countertops and white ash floors.
* Other "whites" to consider are Farrow & Ball's Salt if clean is your thing; a soft white like Wimborne White; or Valspar's Gilded Linen for an organic, enveloping white that imparts natural grace to multi-use, open-plan spaces.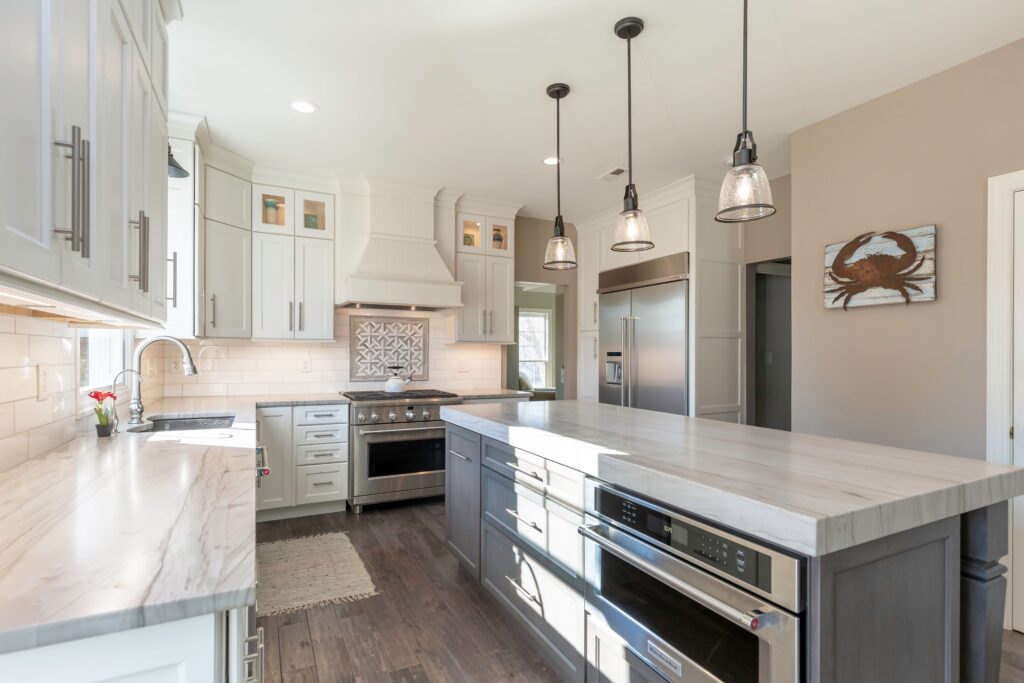 Perhaps you like the idea of a clean, white kitchen but a certain colorful hue really gets your heart thumping. A neutral, white kitchen is the perfect canvas to use as your tastes change. Rather than committing to a single-color scheme, a neutral kitchen done in "just the right white" lets you sample the rainbow. It can provide the base for a huge range of related or contrasting colors from bright and saturated to peaceful, muted hues.
So grab a brush and paint your kitchen counter stools or add a bright hue to the interior of your glass cabinets. Accessorize with rugs, window treatments, dinnerware, or even just a fresh vase of flowers to liven up an all-white kitchen.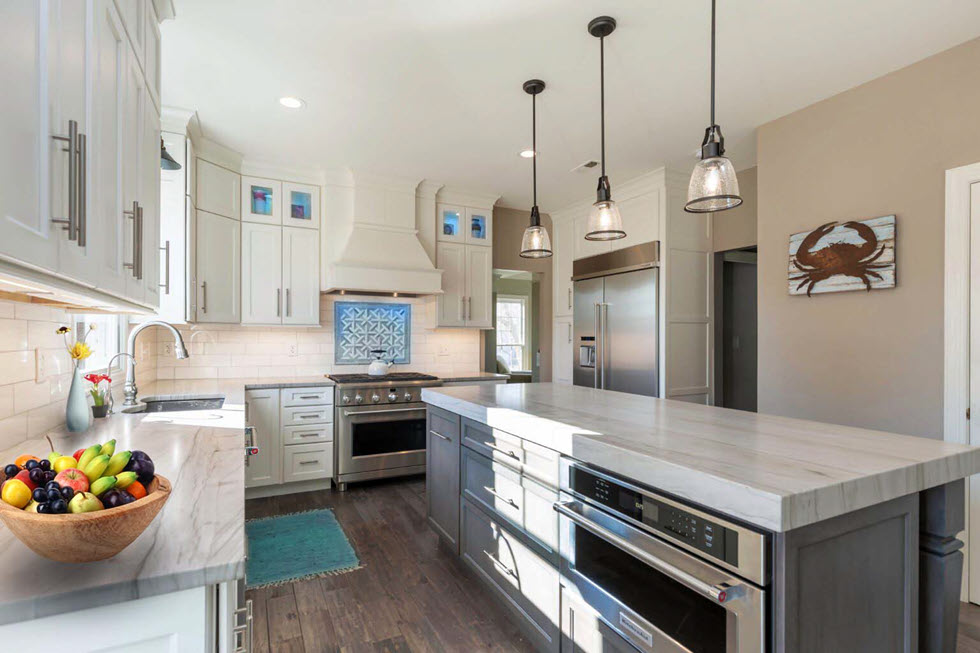 Each year, paint companies and color experts reveal their picks for the shade that best encapsulates the current period. Their choices for the color of the year often draw on trends in pop culture, fashion, technology, and design from around the world.
The experts below solidify the top color trends Kitchen & Bath Creations has chosen to highlight for 2022.
Pantone Color Institute—Blue Hue
The Pantone Color Institute has been speaking the language of color since 1986, bringing color insights that help homeowners develop a color and design strategy. They highlight emerging color themes 6 to 24 months in advance of the season.
Pantone has announced its color of the year for 2022 as Very Peri—"a dynamic periwinkle blue hue with a vivifying violet-red undertone that blends the faithfulness and constancy of blue with the energy and excitement of red."—Leatrice Eiseman, Executive Director of the Pantone Color Institute
HGTV suggests pairing Very Peri with neutrals such as taupe and creams, deeper shades like navy or brown, and different textures like velvet, leather, or grass cloth. "The best part about this bold hue is that it encourages creativity and expression, so maybe an out-of-the-box change (with Very Peri at the forefront of your design) is in order." —Lauren Oster, HGTV.
Etsy & Sherwin Williams on Emerald Green
It's no secret that green is having a moment right now. The hue dominated the list of top color picks from major paint companies, and nearly any interior designer will call out the color as one of the top trends for 2022. But while muted shades like sage reigned supreme in 2021, this color trend will take a brighter, bolder turn in 2022.
Emerald Green is the vibrant, saturated variation predicted to be big this year.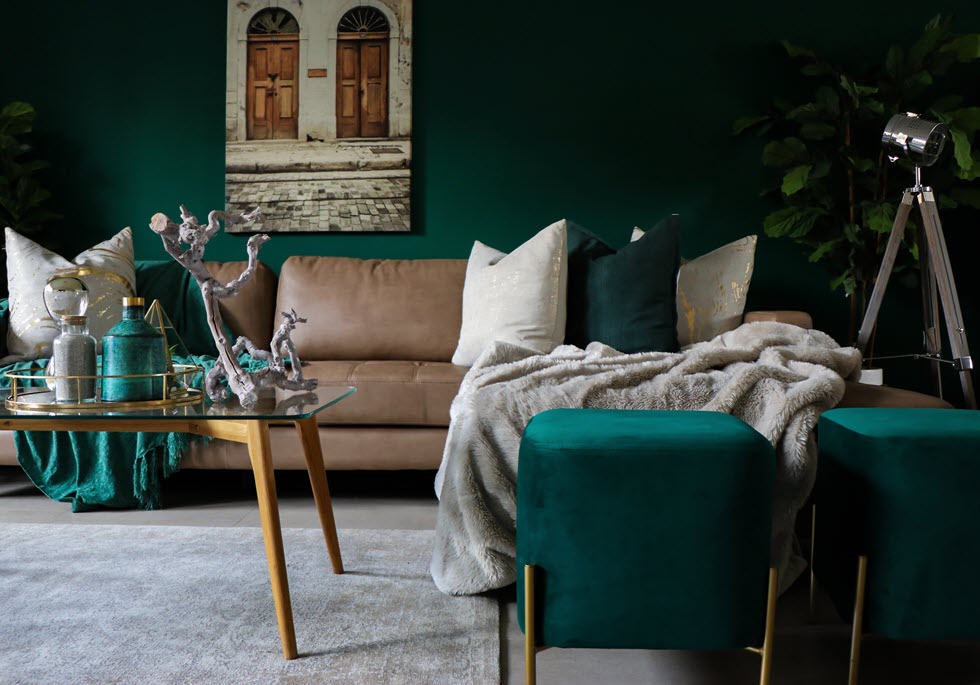 Etsy recently named Emerald Green its color of the year for 2022. The e-commerce company forecasts that Emerald Green will continue its interior design domination through 2022—so you can paint in confidence. Etsy notes "the jewel tone symbolizes harmony and growth as well as royalty and refinement."—Dayna Isom Johnson, Etsy's Trend Expert
A panel survey from Sherwin-Williams, which included more than 400 professional designers, found that Emerald Green was the top prediction for the most on-trend color in 2022.
How does the color green make you feel? For many people, it has strong associations with nature immediately bringing to mind the lush green of grass, trees, and forests. Green is often described as a refreshing and tranquil color, and these are excellent emotions to associate with your kitchen.
Farrow & Ball on Citrus Shades
Sunny Celebration! Out of the entire spectrum of choices, there's one category of hues seeing an obvious increase in love: It's the citrus paint color trend, and it's all but taken over. "This year, in particular, we are getting more requests for color, which we attribute to the fact that bright colors make people happy!"
Cheery citrus shades like yellow or green spark joy and can bring positive energy into one of the hardest-working rooms in the house—your kitchen.
Think citron and marigold for bringing saturated sunshine inside. Pick a bright shade that's grounded in nature, and pair it with neutral white or grey accents. Energizing yellows and oranges can be set against moody blues or light whites. The contrast will make the hues pop even more.
"The movement toward sunny Citrus Shades are defined by a gravitation toward shades that offer nostalgia and warmth—not surprising, considering many of us spent a year reminiscing over non-pandemic days and wishing for a vacation in the sun."—Charlotte Cosby, the Head of Creative at Farrow & Ball.
Infuse some happiness into your home with a citrus shade. A little hint is all you need—a pop here and there can have a stunning effect!
Valspar's Rustic Oak
Rustic Oak is rooted in nostalgia, offering comfort to younger generations. It is a rich, warm color that adds an element of sophistication and reminds you of the comforts of home (and perhaps home cooking!).
Warm tones are growing in popularity, along with the mid-century modern design style. This color works perfectly with dark wood floors to ground the shade and add interest.
Rustic Oak: "a warm shade, reminiscent of copper, creates a space for us to feel protected and comforted."—Sue Kim, Valspar Color Marketing Manager
Kitchen & Bath Creations
We have been helping homeowners fall in love with their homes for over 30 years. Our designers average over 20 years each in the kitchen and bath industry! We are a family-owned business that specializes in best-in-class brands and expert service and design.
Whether your style is traditional, transitional, contemporary, or farmhouse, our designers can help you create a palette that fits your design goals. All of us at Kitchen & Bath Creations look forward to seeing you in one of our three showrooms—Annapolis, Columbia, or Perry Hall.
Toi Renee Patterson
Toi Renee Patterson is the Marketing and Advertising Coordinator for Kitchen & Bath Creations in Columbia, Maryland. Toi is ecstatic with her role at KBC because of the value the company places on its employees and their shared interest in design esthetics. She loves all things related to home design, and functional kitchens in particular. For the past 30 years, Toi has been providing businesses with marketing and administrative support and has enjoyed being involved in many successes. An HGTV fanatic and "wanna-be-designer," she now has the best of both worlds. With the help of the KBC Team (experienced professional designers), Toi will be sharing ideas that can easily be incorporated into your own home, from clever storage solutions, to "must-have" kitchen accessories, to incredibly tasty and easy-to-make recipes, and more.