Kitchen & Bath Creations and Carpet Concepts
Kitchen Cabinets and Flooring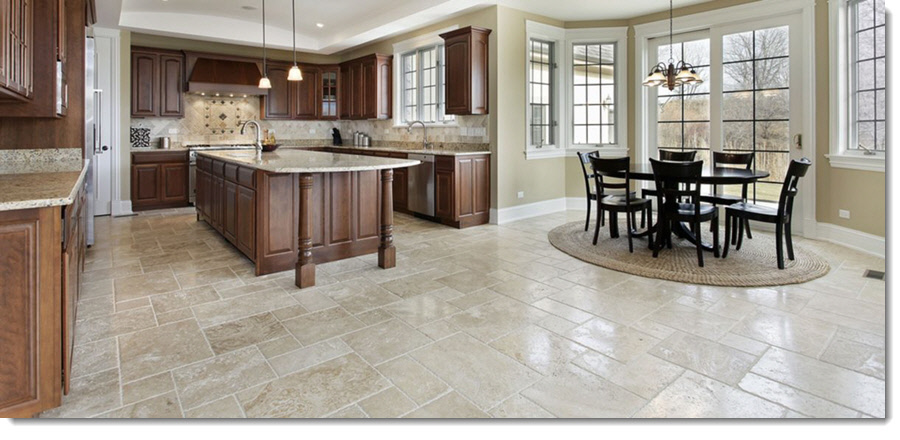 Kitchen & Bath Creations and Carpet Concepts now share a space in the Perry Hall community. The combination of flooring, kitchen and bath cabinetry, and countertops in one location enables an easier approach to create the kitchen of your dreams.
Now, you can see cabinet, countertop, and flooring options all in one convenient showroom! Have fun combining colors, styles, and textures. Get a real sense of how the flooring pattern will match with your favorite cabinet ideas. Consult with the Carpet Concept's expert to see if you should go with wood strips or whether planks or a parquet pattern will look and work the best.
Learn about the new sealants that can be applied to ensure that your hardwood flooring will last even with the occasional spill in the kitchen or drips of water in the bathroom.
The combination of expert flooring advice and expert cabinetry advice make the new combined Perry Hall showroom of Kitchen & Bath Creations and Carpet Concepts the best place to visit when considering a new kitchen or a kitchen or bath remodeling project.
Since sharing the space together, we've gotten to know Dave Graham a lot better and decided it would be nice to do an interview. Dave is the owner of Carpet Concepts and shares his thoughts on having a showroom in Perry Hall with Kitchen & Bath Creations.
Q: What do you enjoy most about having a showroom located in the Perry Hall community?
Dave: My family grew up in the area and have lived here for over 60 years. We care about the community and have always wanted to make a valuable contribution. As a business owner, I feel a responsibility to help make this area the best it can be.
The people of this area are like "family" and we treat them like they are family.
We have watched the area grow. The area has developed into a busy and bustling community. Even with the growth, there is a very real sense of family and dedication to the community by the people who live here. This sense of community is very important to us.
Q: What type of flooring do people most seek for kitchens? 
Dave: We have a wide selection of flooring. Many people like ceramic tile but there is a product called luxury vinyl which is also very popular. Both materials work well in a kitchen. The color selection allows these materials to work well with any type and color of kitchen or bath cabinets.
We also offer hardwood flooring. Hardwood can be used in both the kitchen and bathroom. To protect hardwood flooring we can use advanced sealants. The combination of hardwood and high-quality kitchen cabinets make for a fantastic kitchen combination.
Q: What type of flooring materials do you often provide for a kitchen?
Dave: We offer many different types such as ceramic tiles, luxury vinyl, sheet vinyl, porcelain tile, and hardwood. The key to a successful selection is to understand the desires of the client. We'll help a client define flooring solution options to suit both their tastes and budget. When we order flooring materials for a client, we make a commitment to stay in close contact with the client, understanding that the flooring solution is bigger than just selecting the material. It is usually part of a larger remodeling project.
By having a close relationship with Kitchen & Bath Creations we can ensure a wonderful selection of flooring for a kitchen project. This close relationship also extends to a fine-tuned coordination of the installation of the flooring and the kitchen cabinets.
Q: What's your favorite amongst all those?
Dave: I like everything that we sell, and each type will work for a client. We enjoy introducing a client to a material that they may not have considered before coming to our showroom. We can help them to reach a final result with a wide selection of materials. Coordinating our efforts with Kitchen & Bath Creations will help the client to achieve the best result for the client.
Our flooring installation crews are factory certified and experts in all types of flooring installation, and we make sure the delivery and installation of the flooring is well coordinated with the client and other professionals.
Q: What's an advantage of working right in the same space with KBC?
Dave: What I like the most is that Kitchen & Bath Creations treats people like we treat people. There is a consistency of philosophy when it comes to how we do business. Both companies have a clear focus on doing what is right for the client.
Moreover, people who are looking for kitchen cabinets are also looking for flooring and vice-versa. The combination of kitchen cabinets and flooring in a single space along with the expertise to help people with their decision is a big advantage for the client. I view the merging of of the two businesses a great way to provide excellent service to anyone with a kitchen or bath design project.
Kitchen & Bath Creations and Carpet Concepts now work together as neighbors in Perry Hall, Maryland. The newly combined showroom is in the Joppa Corners Shopping Center at 4136 Joppa Road.
This showroom is one-stop shopping at its best. Our customers and clients are able to view cabinets, countertops, and flooring or a combination of the three. Moreover, to have all of this design expertise in one place is a big advantage. The combination of design expertise along with a fine selection of products make the Joppa Road showroom the place to visit for your next kitchen or bath project.
Tags: KBC News
Toi Renee Patterson
Toi Renee Patterson is the Marketing and Advertising Coordinator for Kitchen & Bath Creations in Columbia, Maryland. Toi is ecstatic with her role at KBC because of the value the company places on its employees and their shared interest in design esthetics. She loves all things related to home design, and functional kitchens in particular. For the past 30 years, Toi has been providing businesses with marketing and administrative support and has enjoyed being involved in many successes. An HGTV fanatic and "wanna-be-designer," she now has the best of both worlds. With the help of the KBC Team (experienced professional designers), Toi will be sharing ideas that can easily be incorporated into your own home, from clever storage solutions, to "must-have" kitchen accessories, to incredibly tasty and easy-to-make recipes, and more.