Color of the Year 2020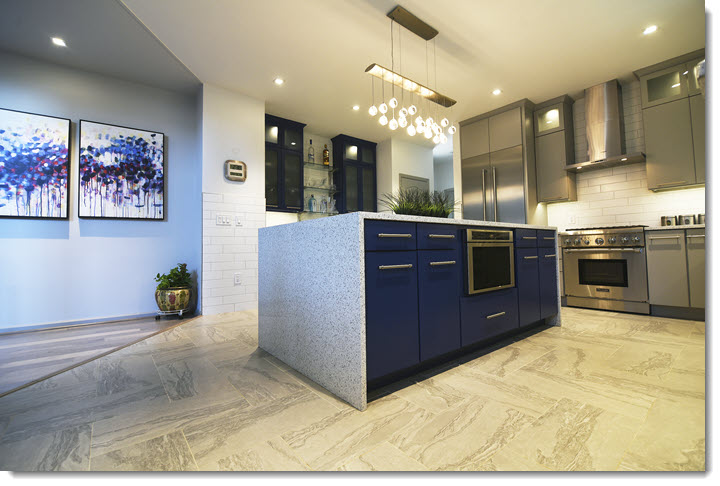 Have you ever wondered how Pantone comes up with its color of the year?
"To arrive at the selection each year, Pantone's color experts comb the world looking for new color influences. This can include the entertainment industry and films in production, traveling art collections and new artists, fashion, all areas of design, popular travel destinations, as well as new lifestyles, playstyles, and socio-economic conditions."
"Influences may also stem from new technologies, materials, textures, and effects that impact color, relevant social media platforms and even upcoming sporting events that capture worldwide attention."—Leatrice Eiseman, Executive Director of the Pantone Color Institute
This year, Pantone has chosen Classic Blue as its color of the year. It's said to be a restful color, one that offers refuge and lends itself to relaxed interaction. Sounds perfect for the kitchen—the heart of today's home!
Along with whites and grays, blue is one of the most popular kitchen cabinet colors for 2020. So how do you pull it off?
Go with a gray-based blue. The hue will stay popular longer than a bold, primary blue.
Add contrast to a stark, all-white kitchen with a striking blue island
Two-toned kitchen cabinets—try white uppers with blue base cabinets.
Why white on top and color at the base? "Darker colors near the ceiling can make the ceiling seem lower than it actually is, especially if you already have low ceilings."
The kitchen designers at Kitchen & Bath Creations (KBC) can help you with a wide range of design considerations. From designing the most efficient kitchen triangle, deciding on a wonderful color palette, to the selection of accessories–KBC has got you covered!
Did you know that blue is also often associated with depth and stability? People feel that the color blue symbolizes trust, loyalty, and wisdom. The color blue is also considered beneficial to the mind and body. It can help to create a feeling of well being that can be used effectively in kitchen design.
Here are some views of kitchens, a bathroom design, and laundry room design with a color theme based on blue.
All three of KBC's design showrooms have beautiful blue kitchen cabinets on display. Come see us at Columbia, Perry Hall, or Annapolis. One of our talented kitchen designers would love to help you create a beautiful, on-trend, yet timeless kitchen.
Tags: Kitchen Cabinets, Kitchen Color Schemes
Toi Renee Patterson
Toi Renee Patterson is the Marketing and Advertising Coordinator for Kitchen & Bath Creations in Columbia, Maryland. Toi is ecstatic with her role at KBC because of the value the company places on its employees and their shared interest in design esthetics. She loves all things related to home design, and functional kitchens in particular. For the past 30 years, Toi has been providing businesses with marketing and administrative support and has enjoyed being involved in many successes. An HGTV fanatic and "wanna-be-designer," she now has the best of both worlds. With the help of the KBC Team (experienced professional designers), Toi will be sharing ideas that can easily be incorporated into your own home, from clever storage solutions, to "must-have" kitchen accessories, to incredibly tasty and easy-to-make recipes, and more.