Pet-Friendly Kitchen Design
Kitchen Design with Pets in Mind
Pet-Friendly Kitchen Design Ideas
For a kitchen that's truly the "heart" and "hub" of the home, don't forget Fluffy and Fido! With our kitchens acting so much like a "family room," we like to create designs with your furry pals in mind.
Here are some great ideas to make your kitchen a warm and inviting space for family and pets alike.
Safety First
Pets can be very curious and love to explore. A good kitchen design can help keep them safe from daily hazards.
Here are a few safety tips:
Protect your cat's paws from a hot stovetop with an induction hob or stove burner covers.
Prevent your dog from chewing through electrical cords with good cable management. Trunking is an excellent way to eliminate dangling wires and gives a neat, professional-looking finish to your décor.
Keep bins covered inside a cabinet to prevent pets from coming into contact with dangerous waste and foods.
Always check your washing machine and dryer for snoozing pets before operating.
Store all sharp objects such as knives and tools well out of reach.
Let your KBC Kitchen Designer know what type of pet you have and your concerns.
Daily Reflections
If your design allows for it, a window with a window sill closer to the floor can be a nice and special facet of a pet-friendly kitchen. Pets love to look outside—to reflect and to keep an eye on the place.
This will make it easy for them.
Chow Time
Look, we all love to eat and no one understands that more than our pets. A dedicated feeder station is a super idea; a built-in food and water station at the base of a kitchen island is a stylish option, and an "all things pet" drawer can be a smart move. Food, treats, toys, and other supplies corralled in one space make them a cinch to find.
Don't forget to make your pet's chow time an easy task for you. With see-through storage containers, you'll be able to see at a glance if your pet food is running low.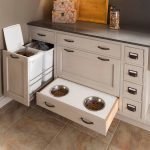 Nap Time
Pets, not wanting to miss a thing, tend to nap in the middle of high activity areas. Why not give them their own spot in the kitchen where they won't constantly be underfoot? A built-in bed allows your pet to be in the room with you without being in the way.
Create a pet space under a desk or coffee bar, or consider extending the island countertop to accommodate a pet bed underneath.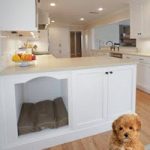 Play Time
If you have a fenced in yard, one of the best ways to help your dog make the most of it is with a doggie door. This is great for your pet as it provides them with some freedom and you don't need to tune in so much to their potty time.
Bath Time
A friend of mine has a dog that does not like to be dirty. The little pup tries hard to stay clean when outside, but none-the-less may still track in some mud.
So what's the solution for a "prissy" pup? A dedicated tidying up station where the pup can be toweled down, cleaned up, and brushed or even given a bath!
This helps to keep your entire home cleaner.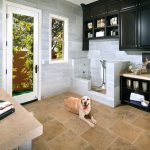 Time OUT
We love our pets, but sometimes the kitchen is just not the place for them. You may have just mopped the floor or you're going to take something hot out of the oven. A built-in pocket gate gives you just the flexibility you need.
It takes up virtually no space and is always ready to be pulled into position. Slide it out when you need it, and when you're done using it, just slide the gate back into the wall and it's gone and out of the way.
Time For A Walk
Your pup deserves more than a generic hook for his leash. Be creative and add some pet-friendly character to your new kitchen. You need to keep them close at hand, and this adds some style as well.
A Kitchen Designed for All Family Members
Our pets are our family. The love, care, and attention we give the much-loved, furry, funny, stubborn, loyal, and loving little souls who share our lives is returned many times over. With our pet-friendly ideas, you can be sure your kitchen looks its best and keeps your pets safe from everyday hazards.
We'd love to learn about your wonderful pets. Come visit our showroom, in Columbia, Maryland, and anyone of our fabulous designers can help you design with them in mind. Stay tuned into the KBC blog. We will reveal how to "pet proof" your kitchen walls and flooring. With a bit of planning, you can have a kitchen that is well designed for everyone in the family–whether on two legs or four.
Tags: Kitchen Design, Pets
Toi Renee Patterson
Toi Renee Patterson is the Marketing and Advertising Coordinator for Kitchen & Bath Creations in Columbia, Maryland. Toi is ecstatic with her role at KBC because of the value the company places on its employees and their shared interest in design esthetics. She loves all things related to home design, and functional kitchens in particular. For the past 30 years, Toi has been providing businesses with marketing and administrative support and has enjoyed being involved in many successes. An HGTV fanatic and "wanna-be-designer," she now has the best of both worlds. With the help of the KBC Team (experienced professional designers), Toi will be sharing ideas that can easily be incorporated into your own home, from clever storage solutions, to "must-have" kitchen accessories, to incredibly tasty and easy-to-make recipes, and more.