The Advantages of Using a Kitchen Designer
What are the advantages of using a Kitchen Designer?
Kitchens have evolved from being a simple place to prepare meals to being the centerpiece of a home. This evolution has happened over decades. Now rather than just a background operation, today's kitchen is a place to socialize and connect while both preparing and enjoying the meal. The modern kitchen is now both highly functional and beautiful.
The challenge for the design of a modern kitchen is to create an open and welcoming kitchen, one that is integrated into adjacent spaces where people enjoy pre-and-post-meal socializing. A thoughtful kitchen design complements the serving and enjoyment of your meals. This is true if the meal is a simple breakfast for two or a large holiday feast.
To create your ideal new kitchen it is best to first gather ideas for your kitchen. Look for ideas from a variety of sources and multiple perspectives. Next, incorporate all the different design ideas into a coherent picture of your ideal kitchen. Bringing many design concepts and ideas together in a pleasing way takes some experience, so you may want to seek the assistance of our Kitchen & Bath Creations design group. Our specialist can work with you on the design of your new kitchen. We can help organize the project and maximize your budget–no guesswork involved!
A designer will first talk with you to understand your requirements and vision for your new kitchen. This consultation is complimentary, and there is no obligation to continue working with that designer or to create your new kitchen with Kitchen & Bath Creations. We are here to help and to make the process fun, rewarding, and efficient.
Here are the major advantages of working with a kitchen designer:
1. Designing the Floor Plan
It is always valuable to consider the floor plan even when considering concepts. This is where working with an experienced kitchen designer can be very helpful. You will want to think out the space available to you. This is also the time to think about whether you will expand the foot print of your kitchen. Will you knock down a wall or two? Relocate windows and doors or even build an addition? The floor plan has to work well with your home, and you need to be able to proceed without exceeding your budget.
Here are some items which must be reviewed and built into the design:
Integration with other areas such as dining area, great room, patios and/or decks
Traffic flow
Work triangle
There are a number of fine floor plan layouts that can be used with essentially any existing constraints. We can also help look for opportunities to create more space or improve the traffic flow of your new kitchen.
Here are some layouts which are all attractive and functional.
A. L-Shaped Kitchen
Placing everything on two walls uses space effectively and creates a simple work triangle.
B. U-Shaped
The layout is highly functional, efficient, and can be made to work with many existing situations. There are significant triangle options.
C. Straight, One-Wall
A straight kitchen design layout can be budget friendly, functional, and attractive.
D. G-Shaped
This type of layout has a great deal of countertop area. It is highly functional and allows for multiple work triangle options.
E. Galley
This layout can be wonderful when the space available is long and narrow.
F. Island
An island can be a very functional aspect of a kitchen. You can prepare a meal and gather around the island to enjoy it too!
2. Meshing the Floor Plan with Electrical and Plumbing
If you have a nice functional layout for your existing kitchen but it needs some updating, the electrical and plumbing may already be properly positioned. If this is the case, this saves your budget for things such as kitchen cabinets, countertops, and appliances.
Our designers can help you get the most out of your existing kitchen in terms of electrical and plumbing.
3. Kitchen Cabinets
As today's heart of the home, a luxury kitchen adds tremendous value, and kitchen cabinetry is the largest and most important piece of your investment. Once the basic layout, electrical, and plumbing has been roughed out, it's time to add kitchen cabinetry to your desired layout. Our kitchen designers can help you make this choice. Our showroom has a wide variety of cabinetry brands to cater to your personal style. We supply custom cabinets with unique construction options, finishes, and functions designed to suit all of your needs—the sky is the limit!
Moreover, a designer can assist you in including the details that really make a kitchen a showpiece. How about a plate rail or open end shelves for added appeal? What about a wine rack so that your favorite wines are a step away. Do you want to include artwork, a tapestry or have a special door to the pantry? Perhaps some accent lighting would be perfect!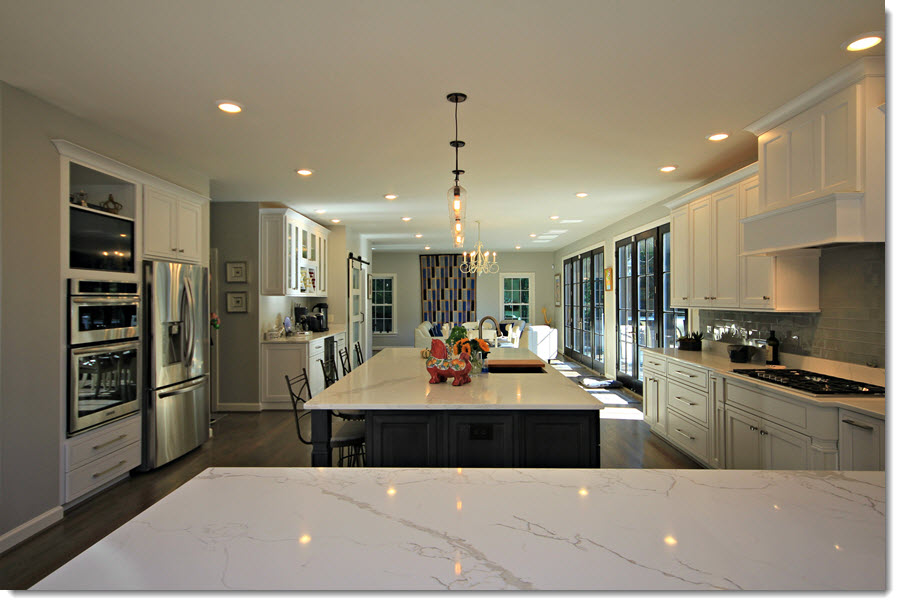 It's the little details, which you may not have even considered, that can make a kitchen truly special.
3. Selecting Appliances
Appliances are an important part of the functional aspect of the kitchen and must be considered early on in the process–essentially right after you have chosen your layout. But they also are part of the "look." Do you want to have your refrigerator and dishwasher matched with a front panel that matches your kitchen cabinets? We can work with you to help ensure the appliances are proper for your needs, look wonderful, and meet your budget.
4. Countertops and Backsplash
The countertops and backsplash help tie the whole kitchen together. There are so many materials, colors, and textures to choose from that this decision can become quite daunting.
A Kitchen & Bath Creation's designer will be able to sort through all of the options with you. The process can be very interactive, as care must be taken to get items to come together. For example, you may find two great design items that are stunning individually, but may not work well together. Being able to see this on a computer screen could help you avoid making a poor decision that you will regret later. Once you decide on the features in your kitchen, your design specialist can create a rendering so you can see exactly how the finished kitchen will look.
5. Lighting
Lighting should be properly located for key work areas and can also be built into the kitchen cabinets. Artificial lighting can be blended with natural light, and special lighting can be used to highlight certain features of your new kitchen design. Feel free to review our post on "Kitchen Lighting."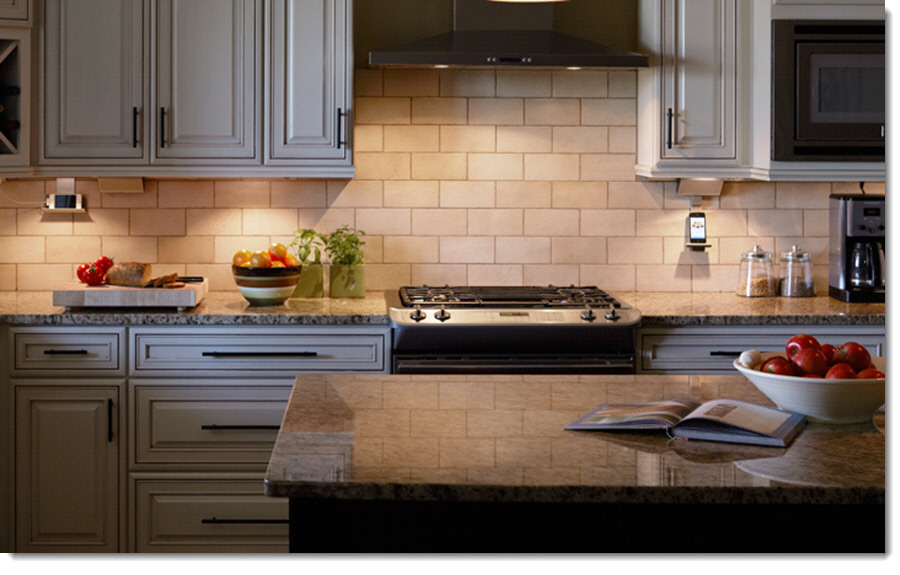 6. Flooring
Flooring should be durable as the kitchen is often the highest traffic areas of your home. At the same time, you want your flooring to complement the kitchen cabinets, countertops, and appliances and join the kitchen area with the areas immediately adjacent to the kitchen. We can help you make decisions on what type of flooring to use as each type has both strengths and weaknesses.
A crucial aspect to consider is maintenance. Before making a decision on flooring, you'll want to be educated on how to maintain and protect your investment. If you are in our Perry Hall Showroom, consult with our experts at Carpet Concepts.
A new kitchen needs to be planned. This is the single most important part of the project. Without a proper plan mistakes can happen, and mistakes increase cost and extend the project timeline.
Here are 10 mistakes that can be avoided by working with an experienced kitchen designer:
1. Proceeding without a full plan.
2. Using contractors for the design; they typically are not kitchen designers and seldom want to be.
3. Assuming you know the options.
4. Not thinking about workflow or planning for things such as counter space and elbow room.
5. Making a cabinet choice that may be too trendy.
6. Underestimating how much storage you need.
7. Not being informed about materials (countertops, flooring, etc.).
8. Overlooking ventilation, a lighting plan, and electrical.
9. Not maximizing your budget and/or staying within budget.
10. Not setting up a temporary kitchen.
We want to help you through the process of your new kitchen design and have the experience to do so. Stop by one of our showrooms and have an initial discussion. There is no obligation, and we know you will value the conversation.
You may also be interested in other questions that homeowners often ask when considering a new kitchen design. Here is a link to this section of our blog: Kitchen Design Questions.
Tags: Kitchen Cabinets, Kitchen Design
Toi Renee Patterson
Toi Renee Patterson is the Marketing and Advertising Coordinator for Kitchen & Bath Creations in Columbia, Maryland. Toi is ecstatic with her role at KBC because of the value the company places on its employees and their shared interest in design esthetics. She loves all things related to home design, and functional kitchens in particular. For the past 30 years, Toi has been providing businesses with marketing and administrative support and has enjoyed being involved in many successes. An HGTV fanatic and "wanna-be-designer," she now has the best of both worlds. With the help of the KBC Team (experienced professional designers), Toi will be sharing ideas that can easily be incorporated into your own home, from clever storage solutions, to "must-have" kitchen accessories, to incredibly tasty and easy-to-make recipes, and more.