Kitchen Design Color For 2018
Kitchen Design Trends
Ultra Violet Wins Color of the Year–2018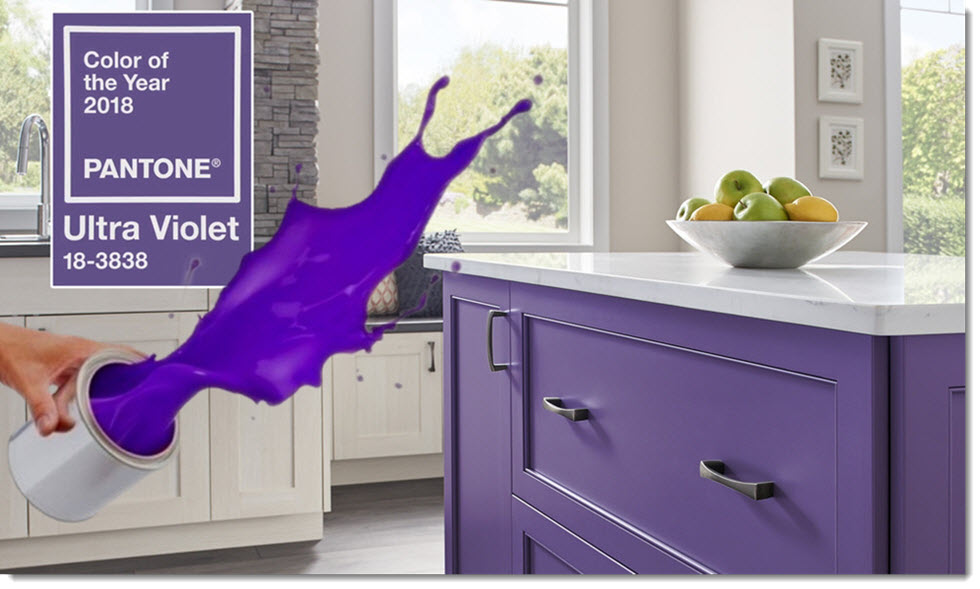 Different colors have different meanings and they promote different feelings. Some are relaxing colors and promote calmness. Others are more aggressive and promote action. The color purple is unique in that it combines the fierce energy of red and the calm stability of blue. The fact that Pantone has chosen Ultra Violet for its color of the year is very exciting for Kitchen and Bath Creations–it can be a great color choice for either the kitchen or the bathroom!

Make a Bold Statement In Your Kitchen With Ultra Violet
Pantone's Executive Director, Leatrice Eiseman, suggests that "Ultra Violet (18-3838) symbolizes experimentation and non-conformity, spurring individuals to imagine their unique mark on the world and push boundaries through creative outlets."
Here are four ways you can make a bold statement in your kitchen using Pantone's Ultra Violet 18-3838.
Vintage colored appliances can give you just the dose of purple you've been looking for.
A kitchen backsplash in different shades of Ultra Violet can have a dramatic effect and allow you to play with various patterns and textures.
For a bold pop of color on your cabinets, try using a gorgeous shade of purple such as eggplant on your kitchen island, while keeping the rest of your kitchen cabinets neutral.
Enliven your walls with a purple-clad piece of art or paint an accent wall.
Whatever way you choose to bring Ultra Violet into the "hub" of your home, it is sure to boost the imagination and spur creativity.
For those "seeking refuge from today's over-stimulated world," Eiseman hints to the "spiritual quality" attached to Ultra Violet.
Let's now turn our attention to the bathroom.
An Oasis–Ultra Violet in Your Bathroom
Purple is not so widely used as a relaxing color but it has some relaxant properties (think lavender). It promotes spirituality, life balance, and wisdom. Purple has a special place among relaxing colors.
This year's Ultra Violet encourages deep contemplation or meditation. In the bathroom, it can create a calming, soothing aura and can induce a sense of relaxation. It is the perfect color choice for a master bathroom retreat.
PANTONE 18-3838 Ultra Violet has inspired us. We think It is a fun and exciting color! Make a splash with it! Add thoughtful touches or accents, or use it as inspiration.
You may also be interested in reviewing the Color of The Year for 2017–Glorious Greenery Wins Color of the Year–2017–which by the way, pairs well with this year's Ultra Violet.
Kitchen & Bath Creations in Columbia, Maryland can help you get started with your kitchen or bathroom remodeling project. Stop by our showroom for a design ideas chat–we love to talk about kitchen and bathroom concepts and possibilities.
Tags: Kitchen Color Schemes, Kitchen Design, Kitchen Remodel
Toi Renee Patterson
Toi Renee Patterson is the Marketing and Advertising Coordinator for Kitchen & Bath Creations in Columbia, Maryland. Toi is ecstatic with her role at KBC because of the value the company places on its employees and their shared interest in design esthetics. She loves all things related to home design, and functional kitchens in particular. For the past 30 years, Toi has been providing businesses with marketing and administrative support and has enjoyed being involved in many successes. An HGTV fanatic and "wanna-be-designer," she now has the best of both worlds. With the help of the KBC Team (experienced professional designers), Toi will be sharing ideas that can easily be incorporated into your own home, from clever storage solutions, to "must-have" kitchen accessories, to incredibly tasty and easy-to-make recipes, and more.